(Clearwisdom.net) Falun Gong practitioner Li Yuzhang and his daughter, Li Jinling, both from Menlou Village, Zhuge Town, Yishui County, Shandong Province, were from their homes by Chinese Communist Party authorities on the night of September 21, 2011. Mr. Li is currently in Yishui Detention Center, while Ms. Li Jinling is in the Linyi Detention Center.
At around 10 p.m. on September 21, eight individuals from the Domestic Security Team, Zhuge Town Police Station, and Zhuge Town Party Council jumped over the wall of Mr. Li's home. They forced their way in, dragged Mr. Li from his bed, and ordered him to hand over his computer. Mr. Li replied, "I don't have one." He was instantly thrown to the ground and told, "You're going to hand over your computer, even if you have to dig three feet into the ground."
The police ransacked Mr. Li's home and stole 500 yuan found in a paper box. Mr. Li's wife was alarmed and protested, "What gives you the right to take our money!" "We didn't take your money. You're telling a lie about a law enforcement officer. I'll lock you up if you say another word." They started hitting her, trying to force her to reveal the whereabouts of their daughter, Li Jinling. Mr. Li's wife refused to answer. The policemen started to beat her and dragged her out to the road, ordering her to take them to where her daughter lived. The police threatened that they'd lock her up if she refused.
At around midnight, the policemen finally found their way to Ms. Li Jinling's home. After cracking open the metal gate, they knocked on every door. One man grabbed Ms. Li by her hair and forced her head to the ground. As she struggled, five or six men hit her. When they were done, they carried her into the car. They took her computer and personal belongings.
In the past, Mr. Li Yuzhang had a poor health. In addition to rheumatism, back pain, and other troubles, he had a very bad temper, often stirring up trouble after getting drunk, cursing and beating up other people. However, after obtaining the Fa in 1998, he changed completely. His health and temper both improved a great deal. No longer did he drink or curse. Everyone in his family was very happy about how he had changed. Mr. Li began repairing public roads in the village on a volunteer basis; and whenever anyone in the village required assistance, he would immediately offer his help.
After the persecution of Falun Gong began in 1999, Mr. Li traveled to Beijing to appeal. However, the moment he arrived in Zibo City in Shandong Province, he was seized by Zhuge Town officials, who took him back to the local governmental building, where Wang Qingguo's gang beat him brutally. They kicked him in the head, stripped off his clothes, and forced to sit on a cement floor holding a brick in each hand over his head. They burned him with cigarette butts and inflicted many other forms of torture on him. After seven or eight days, Wang Qingguo told Mr. Li's family that he could be released for 6,000 yuan. By the time his family had finally borrowed enough money and given it to the authorities, they were told that Mr. Li had already been sent to a detention center. His father, who was 96, was grief-stricken and died.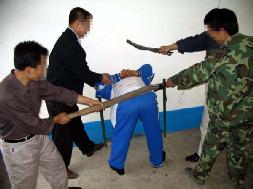 Torture re-enactment: Brutal beatings
In 2001, Mr. Li was once again deceived by Duan Baoxin from the local town and was illegally imprisoned in a brainwashing center for a month. During that time Ruan Bo and his accomplices beat him brutally with wooden clubs and leather belts. One of them, Yang Xiubin, hit Mr. Li like a mad man using rubber clubs. Mr. Li was only given preserved vegetables and fried dough everyday, yet he had to pay 1,200 yuan in living expenses and 3,000 yuan as a deposit. Others who participated in the torture were Wei Qingliang from Weijiagou, Zhuge Town; Sun Mingyong, who lived in the detention center; Song Yuwang from Sijiagou; Huang Baohui, who worked in the Zhuge Town government; and others. They forced Ms. Li Jinling to borrow money from many sources and even abducted Mr. Li Yuzhang's son-in-law, Jiang Xiusheng, and beat him severely. Because Ms. Li Jinling had just gotten married and had no money, they forced Mr. Li Yuzhang to borrow money from his friends and family. Everyone he knew was severely affected as a result.
At around 11 p.m. on May 14, 2007, officers from the Yishui County Domestic Security Team, Deputy Secretary Yang Zhenlong, Liu Tao from the Zhuge Town Party Council, and an individual surnamed Shen from the local police station led a gang of men to break into the homes of Li Yuzhang; Li Huazhang; Li Yuzhang's father-in-law, Jiang Zhaorong; and Li Jinling, ransacking and stealing. Li Yuzhang; Li Huazhang; and Li Huazhang's second son, Li Jincai, who had just returned home from visiting his father in Jiaozhou City, were all illegally arrested. Li Jincai's cellphone was confiscated and his cellphone's SIM card was taken away. The next day, Li Jincai was taken home by the village Party secretary. Li Yuzhang, and Li Huazhang were held in the Yishui County Detention Center.
Now Li Yuzhang and his daughter are again being illegally detained.
Contact information for those responsible:
Zhang Danong, Public Security Bureau chief: +86-539-2267678, +86-13969905668(Cell)
Yu Fujie, chief: +86-539-2266771, +86-13953982818(Cell)
Domestic Security Bureau:
Song Wei, chief: +86-539-2233680(Home), +86-13705493366(Cell)
Wu Kaixin, Zhuge Town Party secretary: _86-539-2732369, +86-13589671201(Cell)
Liu Shufeng, Zhuge Town mayor: +86-13675399838(Cell)
Zhou Xiao, Zhuge Town Police Station chief: +86-13853987771(Cell), +86-539-2275398(Home)