(Clearwisdom.net) On the morning of October 8, the Republic of China 100th Anniversary Parade was held in Houston's Chinatown. Over 30 community groups participated in the parade, and local Falun Gong practitioners were also invited to take part.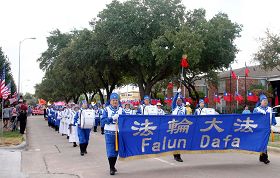 The Divine Land Marching Band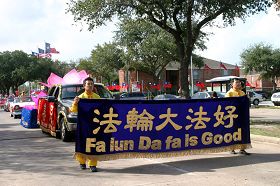 A banner reading "Falun Dafa is Good" in English and Chinese was displayed in the parade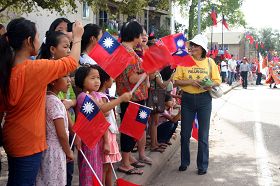 Handing out Falun Gong truth-clarifying materials along the parade route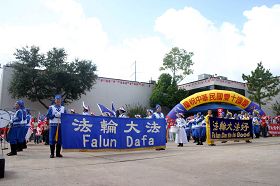 The Divine Land Marching Band performing at the parade end point
The parade started at Diho Square and ended at the Chinese Immigrant Education Center, for a total length of about 1.2 miles. Participating groups presented a variety of performances, including a lion dance, dragon dance, drum troupe, and young women dressed in traditional costumes.
The Falun Gong practitioners put on an impressive display. The Divine Land Marching Band performed the piece "Falun Dafa Is Good," and practitioners in yellow exercise outfits demonstrated the Falun Gong exercises on a decorated float. Some spectators followed along with the practitioners' exercise movements.
Ms. Wu distributed materials along the parade route and later she shared several interesting stories. A gentleman in his 60s had recently come to the US from Mainland China. It was his first time to see a Falun Gong procession in a public parade and to see the exercise demonstration. He was amazed, as this could not happen in China because of the persecution currently taking place. After receiving a brochure from Ms. Wu, he said to her, "Falun Gong practitioners are courageous. You dare to step up and face suppression. This is remarkable. I admire you." He also said that he had been watching NTDTV and he loved the programs. When Ms. Wu handed a brochure to the wife of a Taiwanese diplomat, she raised the flyer above her head to show her respect for Falun Gong.
Ms. Wu shared, "I heard about Falun Gong in 1996 but did not pay attention to it at first. After the persecution of Falun Gong in China started in July 1999, the Communist regime's propaganda was also spread to the US and this triggered my interest. I started my own investigation and learned that the practice teaches Truthfulness-Compassion-Tolerance. I then started to read and practice Falun Gong at home. I hope that more Chinese people will come to know the truth of Falun Gong."
Falun Gong practitioner Mr. Li and his daughter both performed in the marching band. Mr. Li said, "Houston has many Taiwanese groups, and inviting Falun Gong suggests that Falun Gong is recognized among them now."
Mr. Li and his daughter have been clarifying the truth in Chinatown for four years. He said, "I know that many Chinese people have been deeply misled by the Communist regime's propaganda. Starting in 2003, we established a truth-clarifying site here to tell them the facts in person. Some people come to our site regularly for informational materials and some have gone to our practice site to learn the exercises."