(Clearwisdom.net) Shen Yun Performing Arts staged four exhilarating shows at the War Memorial Opera House in San Francisco, California, on December 26-28, 2010.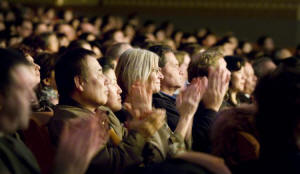 The audience at the War Memorial Opera House enjoying the first Shen Yun performance in San Francisco.
English literature professor: "It definitely seemed like deep poetry"
Mac Test, an English Literature professor from Boise, Idaho, attended the show with his wife, Luz, who is pursuing a Master's degree in Fine Arts.
"I've really enjoyed it. Totally unexpected; didn't know what to expect. This has been very good," the professor exclaimed.
He especially enjoyed the variety of dances in the show, saying that it helps one "get a flavor of each different kind of ethnic group or kind of dance, and it adds a lot of variety."
The Chinese culture presented in the show was particularly intriguing to him.
"I think it's awesome. I've always been enthralled by it. I don't know much about China. I don't study China. But I've always been enthralled by it, and intrigued to know more. What I know [about Chinese culture] I like," he said, adding, "I think it's just grand."
Mrs. Test thought that the dancers are "very gracious and colorful."
She particularly enjoyed the contralto Jiansheng Yang, saying, "I think she has an amazing voice. She's very emotional, singing. I think she conveys a lot in her singing."
Mr. Test felt that the singer's words were like exquisite poetry.
"I imagine it's poetry, and it's impossible to translate poetry, but they seemed very profound, deep," he said. "I don't know where they come from, but they did seem deep and seem to have an historical weight."
The professor commented on tenor Huan Xing's song about the journey of life that we are all on, saying that it was "sending a good, clean message—lead a clean life. It's not about how much money you have, it's about how you live. And I think that was being communicated, and it came across well."
Surgeon says Shen Yun deserves an "A" grade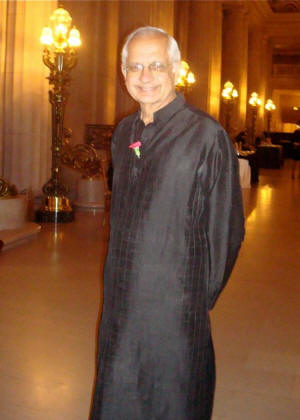 Dr. Kariam Hadge enjoyed watching the fourth and final show of Shen Yun Performing Arts, on Thursday night, in San Francisco.
Dr. Kariam Hadge, a general surgeon, thought the show was "fantastic!"
"I'm thoroughly enjoying it, and I think I could recommend anybody to come and see this show," he said.
"First, from an artistic point-of-view, the music is great, the dancing, costumes, acoustics, and the scenes—they're beautifully done," he enthused.
Dr. Hadge's felt that one of the underlying messages of the show is freedom.
"I think freedom is very important in this world, and I think every human being deserves to be free."
He talked about the consummate beauty of Shen Yun, saying, "Oh, I think it's fantastically beautiful. It's very beautiful. Beauty is love and caring and dancing, art, and music."
Dr. Hadge was definitely impressed with Shen Yun , saying, "I think it's an 'A' grade; very nicely done."
He concluded by saying that Chinese culture is a "beautiful culture" adding, "I think like any other culture, we all want freedom, love, and prosperity."