(Clearwisdom.net) For the past two years, the Divine Land Marching Band in Singapore has been invited to perform in Johore, Malaysia. This year, the band was invited by several stores and malls in Johore again. They performed on New Year's Eve and New Year's Day in the malls.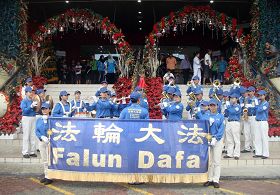 The band performs outside of a mall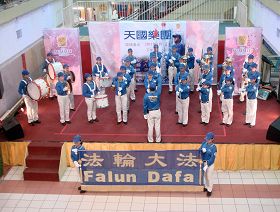 Performing in a mall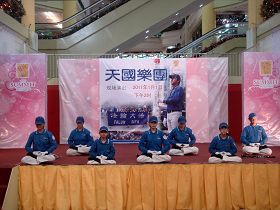 Demonstrating the exercises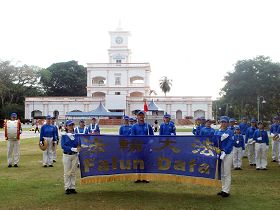 Performing near the beach
On New Year's Eve, the band performed in Johor Bahru. They played songs composed by Falun Gong practitioners and also a famous Malaysian folk song—Rasa Sayang.
Many shoppers stopped to enjoy the performances. Several stores even made big posters, advertising the performances of the band. After the performances, the host introduced Falun Dafa to the audience. The practitioners also demonstrated the exercises.
On New Year's Day, the band went to the town of Muar, Johore, which is a beautiful small town on the coast. The band performed in a mall and near the beach. Many people warmly welcomed the band. Some of them took photos with the band members.