Ms. Zhang Yaqin from Daqing City Dies after Severe Persecution in Heilongjiang Women's Prison (Photo)
January 03, 2011
|
By a Clearwisdom correspondent from Heilongjiang Province, China
(Clearwisdom.net) After Ms. Zhang Yaqin from Daqing City was , she was sentenced to seven years of imprisonment. She was tortured in Heilongjiang Women's Prison until her health severely deteriorated. In May 2010, she was released. In the past six months, she was sent to the hospital for emergency treatment many times. On November 26, 2010, she died at the age of 64 in Daqing People's Hospital, as a result of the persecution.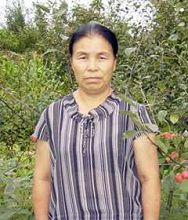 Ms. Zhang Yaqin
Ms. Zhang's husband, Mr. He Wenhai, also practiced Falun Gong in the past. However, after Ms. Zhang was unlawfully arrested and sentenced to prison, he couldn't bear the pressure from the CCP and gave up practicing. After he stopped practicing Falun Gong, many of his old diseases reoccurred. In October 2008, he died.
Before Ms. Zhang started to practice Falun Gong, she had many diseases, such as mitral stenosis, rheumatism, and stomach problems. After she began practicing Falun Gong, she conducted herself according to the principles of Truthfulness-Compassion-Forbearance and all her health problems were cured. She and her family members all got along. She also got along very well with her neighbors and colleagues.
After the communist regime started to persecute Falun Gong in July 1999, because she would not give up the practice, Ms. Zhang was harassed, arrested, and detained many times and subjected to severe mental and physical torture.
In October 2007, the police arrested Ms. Zhang and ransacked her house. They stole 900 and her bank deposit book, as well as all her Falun Gong books and materials and her computer.
On January 24, 2008, Longnan Court in Daqing City held a hearing regarding Ms. Zhang. Only her three daughters, her husband, her brother, and sons-in-law were allowed to attend the hearing. Ms. Zhang was sentenced to seven years of incarceration and was sent to the Heilongjinag Women's Prison.
It was said that Ms. Zhang was injected with an unknown drug while she was in prison.