Introducing Falun Gong in Kuching, Malaysia (Photos)
September 26, 2010
|
By a practitioner in Singapore
(Clearwisdom.net) In early September 2010, Singapore Falun Gong practitioners went to Kuching, Malaysia under invitation to introduce Falun Gong to the local people.
On the evening of September 3, the practitioners distributed Falun Dafa informational materials at a carnival in Matang Jaya and exposed the Chinese Communist Party's brutal persecution of Falun Gong. Many people had not heard about Falun Gong before, and accepted the materials. The next morning, the practitioners held a group exercise practice in Amphitheatre Park. Visitors to the park showed interest and about 20 people learned the exercises on the spot.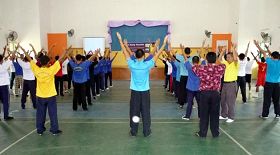 Teachers and students in a correctional center in Kuching, Malaysia learn Falun Gong
On the afternoon of September 4, the practitioners went to a local correctional center, which has 40 teachers and 80 students. The students were in lines to welcome the practitioners. One practitioner introduced Falun Dafa and spoke about how it has spread around the world. Four practitioners demonstrated the exercises and then one practitioner taught the exercises to the students. When the exercise demonstration was almost complete, many rotating Falun appeared on a small screen on the stage and were transparent with light color.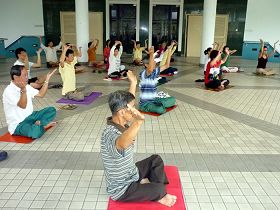 New practitioners learn the Falun Gong exercises
On the morning of September 5, it rained but people still came to learn the exercises. After the practice, they shared experiences and asked questions about Falun Gong. Afterwards, many affirmed that they would cherish Falun Dafa and continue practicing.