Mother Dies Brokenhearted in July 2010 After Years of Seeking Justice for the Gruesome Death in Police Custody of Her Daughter, Gao Rongrong, Prove Futile (Photos)
September 10, 2010
|
By a Clearwisdom correspondent from Liaoning Province, China
Name: Zhang Sukun (张素坤)
Gender: Female
Age: 78
Address: Unknown
Occupation: Retired from Shenyang City Motor Institute
Date of Death: July 16, 2010
Date of Most Recent Arrest: End of 1999
Most Recent Place of Detention: Shenyang City Fangjialan Detention Center (沈阳方家栏看守所)
City: Shenyang
Province: Liaoning
Persecution Suffered: Brainwashing, interrogation, detention
(Clearwisdom.net) It has been five years since Ms. Zhang Sukun's youngest daughter, Gao Rongrong was tortured to death in custody. Ms. Zhang and her family had no way to find justice, and were continually harassed and mistreated by agents from the 610 Office and Domestic Security Division. Before the 2008 Beijing Olympics, agents from the Beijing State Security Department threatened Ms. Zhang and her family in Beijing. They did not allow them to appeal over Gao Rongrong's death in custody, and pressured them to agree to have her body cremated. Around October 1, 2009 National Day, agents from State Security and the police closely monitored her family, who lived in the Guangda Garden Neighborhood in Haidian District, by "guarding" their apartment door 24 hours. When President Obama visited China, "guards" were present day and night. Ms. Zhang's granddaughter tried to study abroad, but was blocked by State Security, and could not travel out of the country. On July 16, 2010, Ms. Zhang died.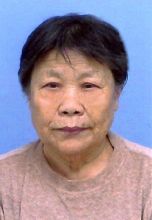 Ms. Zhang Sukun
| | |
| --- | --- |
| Ms. Gao Rongrong | Ms. Gao Rongrong face deformed by electric baton shocks |
Background
Ms. Zhang had rectal cancer about 20 years ago. Her condition worsened for several years after having surgery. When she was about to die in May 1996, she was fortunate to learn Falun Dafa. She regained her health only one week later. Her employer, Shenyang City 55 High School, was overjoyed, and they always went to visit her after she retired, and indicated that her practicing Falun Dafa saved the school so many medical expenses.
Her three daughters, after witnessing Ms. Zhang's miracle, all started to practice. The bright light of Truthfulness-Benevolence-Forbearance brought to her family unlimited peace and happiness. From 1996 to 1999, there were many natural disasters in China, and Ms. Zhang always donated money or clothing. The community workers were all very moved, and even after the persecution began in July 1999, they still said Ms. Zhang's family gave them the most support. Ms. Zhang's youngest daughter, Gao Rongrong, volunteered to financially support two children in remote areas to go to school.
After the persecution began in July 1999, Ms. Zhang and her three daughters went to Beijing to appeal, and to tell the government it was wrong to persecute Falun Gong, and that the unreasonable slander was unacceptable. They could not find a place for their voice to be heard, as the Central Appeal's Office became an arresting ground. Ms. Zhang and her daughters were arrested. She was detained twice in Shenyang City. The second time when she was detained in Fangjialan Detention Center, she was detained for one month. Her second daughter was shocked with electric batons, and her youngest daughter was handcuffed behind her back.
As time went on, Ms. Zhang and her daughters were continually mistreated. Especially her youngest daughter Gao Rongrong: she was arrested in 2003 and detained in Longshan Forced Labor Camp, where she was cruelly shocked with electric batons for 7-8 hours on May 7, 2004, which left her face severely deformed. Photos of her disfigured face were published on the Internet. On October 5, 2004, she escaped from the hospital, but chief Luo Gan ordered that she be arrested again no matter what the cost. She was arrested in March 2005, and detained in Masanjia Forced Labor Camp. She died in custody on June 16, 2005, only 37 years old.

| | |
| --- | --- |
| Ms. Zhang in tears for her youngest daughter's death | Ms. Zhang and her husband look for justice |
Ms. Zhang's heart was broken due to her youngest daughter being tortured to death. She and her very sick husband walked from place to place to appeal over her daughter's murder. Lin Yin, the Office Vice Chair of Liaoning Province Procuratorate said, "Gao Rongrong's case is a special one in a special historical period, handled by the Province 610 Office, which is also a special office in a special historical period. This 610 system is very big, it can oversee many aspects, and is directly under rule of the CCP's Political and Judiciary Committees. This case was handled by it, and is still being handled by it. The Province Procuratorate is also under 610 Office's rule."
Another Office Chair, Qin Chunzhi, also told them, "I cannot handle Gao Rongrong's case, because the Province 610 Office and Political and Judiciary Committee are directly handling her case."
In the past five years, Ms. Zhang and her family could not find justice for Gao Rongrong, and even her body was hidden from the family. They were not allowed to see her body after a large group of police officers escorted it to the Wenguantun Funeral Home. Ms. Zhang was listed on the wanted list when she went back to Shenyang in 2008, and was intercepted when she tried to go back to Beijing. Officers from the Xinxing Police Station in Heping District, Shenyang City tried to force Ms. Zhang to sign a guarantee statement to give up practicing Falun Gong. Ms. Zhang said, "My life was restored by my Master. It is impossible to force me do such a thing against my conscience."
In the past five years, bearing the memory of her precious youngest daughter, with her murderers never brought to justice, and the family being mistreated together, caused Ms. Zhang to be very depressed. She died on July 16, 2010 with deep regret over never seeing her daughter's grievance being expressed. Falun Dafa gave her a healthy second life, while the cruel persecution brought her pain and death.
Related report: http://www.clearwisdom.net/emh/articles/2005/6/20/62065.html