(Clearwisdom.net) On August 14, Falun Gong practitioners held a grand parade in Jakarta, protesting the 11-year long persecution by the Chinese Communist Party (CCP).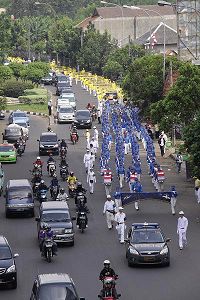 The Divine Land Marching Band leads the march.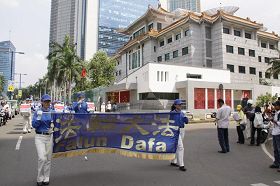 Starting off from the Chinese Embassy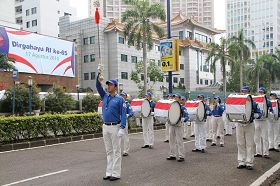 The march set off from the Chinese Embassy at 1pm, and ended at the Indonesia Hotel at 3:30. The Divine Land Marching Band led the way. Practitioners demonstrated the exercises, and performed Chinese dances and waist drums.
The march and its accompanying performances were warmly welcomed by the local citizens. They happily took the Falun Gong materials offered to them, with the hand-made paper lotus flowers being particularly popular.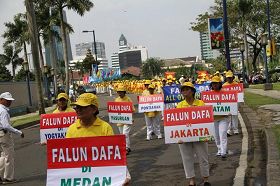 The march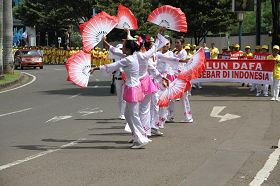 Chinese dance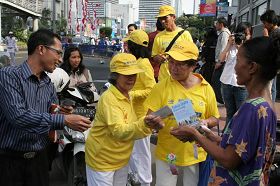 Passing out Falun Gong materials
Since August 17 is the Independence Day of Indonesia, the Divine Land Marching Band played the national anthem. Their performances touched the hearts of many people, including local police. One of the police called the practitioner who was in charge of the parade, telling him that the performances were too short, and he hoped that the band could play longer next time. Another policeman encouraged practitioners to keep standing up for their rights. He said he now understands what "Heaven Eliminates the CCP" means, and believes that it may well happen soon.