(Clearwisdom.net) Late last year, 376 villagers from five villages of Ying'emen Town, Qingyuan County in Liaoning Province, jointly signed a petition appealing to the local government on behalf of Falun Gong practitioner Mr. Xu Dawei, who was persecuted to death in prison. Since the communist regime started a large scale investigation of this case several months ago, it has been reported on regularly by overseas media. It has become widely known as the "Incident of Joint Signature Appeal."

| | |
| --- | --- |
| Several months before Mr. Xu was persecuted | Mr. Xu was a kind and upright person. He was a restaurant chef in Shenyang City. |
Mr. Xu Dawei was released on February 3, 2009, after eight years of imprisonment. When his family went to pick him up, he was already emaciated, his had hair turned completely grey, and he had suffered a mental collapse. After he came home, he couldn't eat anything, and he coughed all day. Only 13 days after his release, on February 16, 2009, he died from organ failure in the hospital. The doctor said, "The time for medical intervention had long passed." While he was in prison, Mr. Xu was subjected to long-term torture, including electric shocks, hanging by the arms, savage beatings, etc. The prison authorities had not allowed his family to visit him for more than a year. Dozens of villagers from his hometown went to the prison to demand an explanation for his death. The prison reported that the villagers were "surrounding and attacking the prison."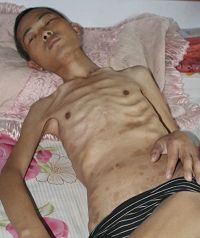 Mr. Xu was brutally tortured in Dongling Prison in Shengyang City. He was emaciated and had multiple wounds from electric shocks. The skin on his buttocks was necrotic.
Mr. Xu's family decided to appeal. Nearly a year has passed, however, and the justice departments at all levels have refused to file the case. In response, 376 villagers signed a petition entitled, "Please Pay Attention to a People's Appeal." Mr. Xu's family sent the petition to the local government and requested compensation for the family. They also asked the government to hold those responsible for Mr. Xu's death accountable. No justice authorities investigated the case. Mr. Xu's family subsequently sent the appeal letter to the Central Committee Office and the Supreme Court, hoping to attract some attention to this case.


Petition signed by 376 villagers
The regime did send officials to study the villagers' appeal, but they came to investigate who started the appeal and to pressure the villagers not to get involved.
1. Director of the Law Enforcement Bureau and the Qingyuan County Police Chief Involved in the Investigation
At around 9:00 p.m. on April 7, 2009, the village Party secretary and two police officers from Yingemen Town, Qingyuan County, went to the home of Mr. Xu Dawei's brother, Mr. Xu Youwei. They tricked him into going to the secretary's house where three other people, Wang Yunfei, head of the Police Department in Qingyuan County; Gai Chengwen, director of the Law Enforcement Bureau; and Cui Guofeng from the Yingemen County government were waiting for him.
They rudely cross examined Mr. Xu Youwei. They threatened him, claiming that the appeal was illegal. Mr. Xu Youwei wasn't intimidated. He said, "What if your someone in your family was persecuted like that? Would you act as if nothing had happened?"
The officials got very angry at Mr. Xu's reasonable answers and irritated by his calm manner and handcuffed him. Mr. Xu didn't cooperate, so the police officers claimed he was "resisting arrest" and forced him into the police car. They didn't take him home until midnight. Mr. Xu Dawei's father was also questioned later about the appeal letter.
2. The Head of the Central Politics and Law Committee Demanded that the Ministry of Public Security Issue Orders Regarding This Case
The police officers not only questioned Mr. Xu Dawei's family, they also went to each household and questioned every villager in several nearby villages.
The questions they asked were almost the same: "Who was leading the effort to sign the petition?" "Why did you sign the letter?" or "Have you looked at the letter?" And at the end of their inquires, they always asked one more question, "If they ask you to appeal, would you?"
The police pressured, intimidated, and threatened the villagers to deter them from getting involved with protesting Mr. Xu Dawei's wrongful death.
According to several villagers, some of the police officers who were leading the investigation said the reason they were conducting such a large scale investigation was because Zhou Yongkang, the head of the Central Politics and Law Committee, had given direct orders to the Ministry of Public Security to investigate this case.
3. The Provincial Authorities Spent Much Effort to Pressure Everyone Involved
The regime also controlled the justice departments, forcing them to pressure the attorney who took the case of Mr. Xu Dawei's death. They first summoned attorney Mr. Wang Jinglong to the Liaoning Province Law Enforcement Bureau and ordered all the attorneys working with Mr. Wang at the Fayuan Law Office to write self-criticism reports and further threatened Mr. Wang Jinglong with revoking his attorney's license. They ordered Mr. Wang to cancel his agency's contract with Mr. Xu's family and forced him to return all the fees he had been paid so far to Mr. Xu's family.
Additionally, the Public Security Department of Liaoning Province instigated the Domestic Security Division in Gaizhou City, where Mr. Xu Dawei's wife, Ms. Chi Lihua, came from, to find out where Ms. Chi is.
During the past ten years of the persecution of Falun Gong, it has been rare for top-regime officials to issue direct orders to their subordinate departments and provincial police and justice departments, as it has in this case, exhorting them to act in concert to exert pressure on the citizens involved. It indicates that the regime is extremely fearful about the changes in public opinion after seeing that so many villagers signed the petition to appeal for justice and to support Falun Gong. This case is still being given a great deal of attention.