(Clearwisdom.net) On June 5, the Divine Land Marching Band was invited to the annual Bread & Honey Festival parade in Mississauga, Ontario, a suburb of Toronto. The band's performance was well-received, and many spectators expressed interest in learning Falun Gong.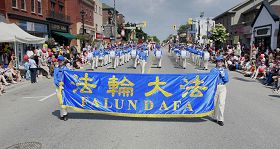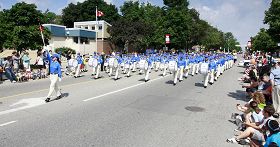 Toronto Divine Land Marching Band performs at Bread & Honey Festival Parade
Chinese immigrant Ms. Zhai brought her 3-year-old twin boys to see the parade. Zhai said that she first saw the band when she was pregnant. "I am very proud to see them. They are very coordinated and neat. Their performances are spectacular. Unfortunately, Falun Gong is persecuted in China."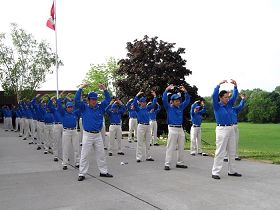 Band members practiced Falun Gong exercises before the parade
At the rally spot of the parade, Marching Band members practiced the exercises together, attracting many spectators.
Chinese Immigrant Li, from Liaoning Province, gave the thumbs-up sign when she saw the Marching Band. "Great! From this parade I can see how Canada respects human rights and supports Falun Gong. The practitioners have the freedom to showcase the practice and this is impossible in China. I know that practitioners in China are being brutally persecuted because some of my friends practice Falun Gong and they are all good people. I still don't know why such a nice group people are being persecuted... I am very excited today to see their spectacular performance. We have freedom to learn the truth in Canada, and I will do some research."
Mr. and Mrs. Lei followed the band along the parade route. Mr. Lei said: "We just came from China. We walked with the band and felt great. We are very proud of their excellent performance. Falun Gong practitioners have freedom here and I am surprised to see that they are so popular. We will read about it and look up more on the internet."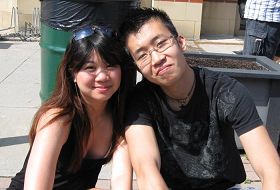 Peter of Hong Kong and Jackie of Taiwan said that the Chinese band was spectacular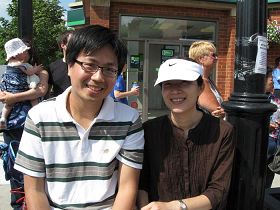 David and Henny from Taiwan praised the band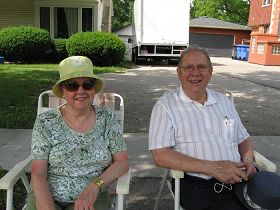 Elaine and her husband Frank thank the band for their contribution to the community
Eliane said that she fell in love with the band the first time she ever saw them. "The band is great and very uplifting." Her husband added: "We see them in just about every parade these days, and we appreciate their contribution to our community."