Name: Liang Zhenxing (梁振兴)
Gender: Male
Age: 46
Address: Changchun City, Jilin Province
Occupation: Unknown
Date of Death: May 1, 2010
Date of Most Recent Arrest: 2002
Most recent place of detention: Gongzhuling City Prison, Jilin Province (吉林省公主岭监狱 )
City: Gongzhuling
Province: Jilin
Persecution Suffered: Detention, illegal sentencing, beatings, electric shock, sleep deprivation, forced-feedings, brainwashing
(Clearwisdom.net) Mr. Liang Zhenxing was among those who participated in a successful attempt to broadcast videos explaining the true situation about the persecution of Falun Gong over cable TV in China's Changchun City. The broadcasts, which occurred in March 2002, involved tapping into the state-run cable TV network and pre-empting regular programming. Mr. Liang died on May 1, 2010 in Gongzhuling Central Hospital under surveillance of Gongzhuling City Prison guards. Before his death, he was detained in Jilin Prison, Tiebei Prison, Siping City's Shiling Prison, and lastly Gongzhuling Prison.
Background
In the context of widespread Chinese Communist Party propaganda devised to demonize Falun Gong in the eyes of the public, several Falun Gong practitioners in Changchun decided to tap into the state-run cable TV network to broadcast various materials explaining the truth about Falun Gong.
At around 8:00 p.m. on March 5, 2002, Falun Gong truth clarification videos including "Falun Dafa Around the World," and "Self-immolation or Staged Act?" were broadcast for about fifty minutes on eight channels of the Changchun City cable TV network. The Changchun City Cable TV Network Company has 300,000 subscribers and more than one million viewers. The incident created shockwaves in the public, and many people learned the truth about the persecution of Falun Gong.
Jiang Zemin, the top CCP official who started the persecution, was shocked and angered, and issued a secret order to "kill [those responsible for the incident] without pardon." Soon, police officers from Jilin Province arrested more than 5,000 Falun Gong practitioners in Changchun City. During the arrest, at least seven Falun Gong practitioners were beaten to death, and fifteen practitioners were sentenced to between four years and twenty years in prison. These are the longest terms exacted upon Falun Gong practitioners since the persecution started in 1999.
Brutal Torture
Before the sentence in September 2002, Mr. Liang was detained in Tiebei District Detention Center in Changchun City. Every two or three days, a guard took him out to be interrogated. They would cover his eyes, torture him until wounds covered his body, then take him back inside.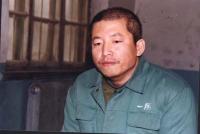 March 2002, Mr. Liang Zhenxing in custody
After sentencing, Mr. Liang was first locked in Jilin Prison. Guards put him in a so-called "Orthodox Center" to torture him on a "death bed" contraption which consisted of a 6 foot long wooden board with steel plates at each end. The holes on the plates are used to affix cuffs and shackles. He was only released from the torture device when having a bowel movement, as urinating spelled no such release.
In 2004, Mr. Liang was transferred from Jilin Prison to Tiebei Prison, where he was tortured via solitary confinement in a small cell (1). Mr. Liang kept studying the Fa and doing the exercises, while prisoners assigned to watch him beat him cruelly.
In August 2005, Mr. Liang was transferred to Shiling Prison in Siping City, directly locked in the small cell upon arrival. Afterward, he was locked in an "Education Ward" (a euphemism for "brainwashing center"). Guards would not allow any one to talk to him, or even look at him, otherwise brutal beatings ensued. He was shackled to the bed for days on end with four prisoners assigned to watch him 24 hours per day. These prisoners tortured him at will, including electric baton shocks, slaps, fists, kicks, sleep deprivation, and standing face to the wall for a long time. They forced him to take cold showers during a twenty below zero Fahrenheit winter.
In July 2006, Changchun City 610 Office stepped up efforts to coerce detained Falun Gong practitioners to renounce Falun Gong. Mr. Liang went on a hunger strike to protest, and was force-fed every day. The feeding tube would not be taken out, just left there between feedings. Often two prisoners would carry Mr. Liang to the second floor to be brainwashed. Mr. Liang refused to listen or watch. Warden Yin Shoudong, Guard Yang Tiejun, Officer Wu Tie, and others shocked him with four electric batons simultaneously. Mr. Liang could not bear such torture any more, and twice jumped off the staircase. One of these times he bumped his head against the edge of a heater, causing a skull fracture, which left a scar 2 inches in diameter.
Seven Practitioners Died in the Large Scale Arrest
On the evening of March 11, 2002, officers from Kuancheng District Police Department arrested Mr. Liu Haibo from his home, tortured and interrogated him till 1 a.m. after midnight. Police found him with no pulse. Although they rushed him to hospital, he died in route (see http://www.clearwisdom.net/emh/articles/2003/4/11/34380.html).
On March 16, 2002, officers from Jincheng District Police Department beat a male practitioner (in his 30s), rupturing his internal organs, causing severe bodily injury (see http://www.clearwisdom.net/emh/articles/2004/1/12/44009.html).
On March 18, 2002, Mr. Liu Yi (34) was beaten to death in Luyuan District Police Department office (see http://www.clearwisdom.net/emh/articles/2002/3/21/20083.html).
On March 20, 2002, Officers from Changjiu Street Police Station arrested Ms. Li Shuqin (54). She was tortured to death in Changchun City Third Detention Center (see http://www.clearwisdom.net/emh/articles/2004/1/12/44009.html).
Thirty four year-old practitioner Ms. Shen Jianli, a teacher at the Department of Applied Mathematics of Jilin University was arrested on March 6, 2002. She was tortured to death in late April 2002 (See http://www.clearwisdom.net/emh/articles/2006/6/27/74853.html).
In March 2002, local police arrested Falun Gong practitioner Ms. Li Rong from Changchun City. The police claimed she took part in broadcasting the videos. She was tortured to death by late March or early April (see http://www.clearwisdom.net/emh/articles/2004/1/12/44009.html).
Dafa practitioner Hou Mingkai was 35 years old and he lived in Changchun City. He participated in the truth clarification videos broadcast in Changchun City in March 2002. The 610 Office posted a 50,000 yuan reward and two-level upgrade promotion for his capture. Hou Mingkai was arrested on August 21, 2002 and was tortured to death within two days. His body was secretly cremated on August 23, 2002 (see http://www.clearwisdom.net/emh/articles/2006/6/27/74853.html).
Mr. Liu Chengjun Died after 21 Months Imprisonment
At 4:00 a.m. on December 26, 2003, Liu Chengjun, one of the instrumental practitioners who organized the broadcast passed away at Sino-Japan Friendship Hospital affiliated with Jilin University in Changchun City.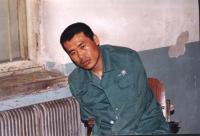 Photo published on Chinanews.com on April 1, 2002
There were numerous blood spots in the room, and Liu Chengjun clearly could not sit up straight at this point
On March 24, 2002, Liu Chengjun was arrested. The police intentionally fired two shots into Liu Chengjun's thighs while he was already in handcuffs and shackles, causing critical injuries. In early May 2002, Liu Chengjun was transferred to the Tiebei Detention Center, where he was savagely tortured on the Tiger Bench for fifty two days. He was carried into the courtroom during the illegal trial. In mid-September 2002, Liu Chengjun was illegally sentenced to nineteen years in prison and was sent to Jilin Prison.
By late October 2003, Liu Chengjun had become paralyzed from torture and had difficulty speaking. He was sent to the Jilin City Central Hospital for emergency treatment. The hospital issued a Notice of Critical Condition, and yet the 610 Office persecutors transferred him to the Jilin Province Police Hospital. The doctor at the police hospital diagnosed Liu Chengjun with uremia and also issued a Notice of Critical Condition. On November 4, 2003, the Jilin Prison officials reluctantly released Liu Chengjun on medical parole, but a stamp of approval from the Debiao Police Station from Liu Chengjun's native Nongan County was required, because Debiao Police Station agents had issued Liu Chengjun's residence permit. Officials at the Debiao Police Station were afraid to take responsibility. The officials reported to the Nongan County Police Department. The Nongan County 610 Office refused to stamp the papers, and eventually the medical parole documents at Jilin Prison became void.
Mr. Liu Chengjun passed away at 4:00 a.m. on Friday, December 26, 2003 at the Sino-Japan Friendship Hospital affiliated with Jilin University in Changchun City after twenty one months of ruthless torture. That same day, the Jilin Prison officials gathered together a large group of guards who cremated the body at 11:00 a.m., despite strong protest from Liu Chengjun's family. Witnesses saw blood dripping from Liu Chengjun's nose, ears, thighs and other parts of the body.
Mr. Lei Ming Died as Result of Torture
Dafa practitioner Lei Ming, 30, lived in Baishan City, Jilin Province. Police and other officials first arrested Mr. Lei for broadcasting the truth clarification video on March 15, 2002. They took him to Qingming Street Police Station in Changchun City. He was later sent to Changchun City Police Department, where the police brutally shocked him with electric batons. They eventually transferred him to the No. 1 Division of the Changchun City Police Department.
The police placed Mr. Lei on a Tiger Bench, tied his legs and tightened the rope, then inserted a metal bar through the holes in the two armrests, and locked the bar in place. They handcuffed him behind his back around the back of the chair with his armpits pressed against the back of the chair. They then put a leather belt through the handcuffs and through the lower column of the chair legs and upwards. Two officers violently yanked the belt downward while another officer fiercely kicked the handcuffs to increase the pain.
More officers besieged Mr. Lei and slapped his face. Two officers, each carrying an electric baton, removed his clothes. They proceeded to shock his neck, mouth, thighs, chest, genitals, and anus, making Lei Ming scream in pain. The police did not stop until the charge in the electric batons had run out.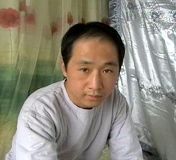 Mr. Lei Ming
Mr. Lei Ming passed away on August 6, 2006, his body weight fell from 140 pounds to only 80 pounds
While they recharged the electric batons, another two officers wrapped Lei Ming's head in a plastic bag. They tightened the bag around his neck so no air could enter. Mr. Lei almost suffocated. They loosened the bag and tightened it again after he had taken just a few breaths. They repeated this until the batteries in the electric batons were fully charged. Another two officers joined in and began shocking Mr. Lei. They also took a screwdriver, heated it on the stove, and burned his neck with it until pieces of charred flesh and skin peeled off.
Lei Ming gritted his teeth to bear the pain. The police shocked the fresh burn wounds on his neck with electric batons and then poured water down his neck. The pain was unimaginably excruciating. The police covered his head with a big metal bucket and banged the bucket as hard as they could with a huge metal bar, producing a deafening noise. The police also inserted a wooden stick into his anus before shocking his anus with an electric baton to cause even more pain.
Within four or five hours, the bones in Mr. Lei's arms and wrists were pulled out of joint. His clothes were soaked with sweat. One officer took Mr. Lei's hands, which were cuffed behind his back, and raised them as far as he could, forcing Mr. Lei's chest to press against his thighs and making the metal bar grind against his stomach. They kept him in this torturous position for about five minutes. His right arm was dislocated at the shoulder joint from being jerked upwards, and his right forearm turned black and was disabled, swinging listlessly in the air. Both of his hands were swollen, and his fingers were two to three times their original size.
The police took turns torturing Mr. Lei for four days around the clock. They eventually took him to Tiebei Detention Center where, on arrival, he was told to take off his clothes for a physical inspection. The guards at the detention center saw that he was severely wounded and refused to accept him. However, officers from the city police department talked them into accepting him.
After Lei Ming had entered the cell, he was first told to take a shower and get a haircut. When he took off his clothes and his injuries were revealed, all the prisoners were shocked. He had black electric shock wounds and burn wounds on his neck and the rest of his body, along with scars on his wrists, arms, and ankles. The injuries were horrific. The head prisoner said, "Before I saw this, I did not believe that Falun Gong was severely persecuted! Now I totally believe it, and I also believe that the CCP will collapse, for such a ruthless regime cannot last."
Mr. Lei Ming was sentenced to seventeen years in prison on September 18, 2002, and was sent to the Jilin Prison in October 2002. While there he was tortured with brutal beatings, fingers thumping his eyeballs, squeezing his testicles, tied to a stretching bed (2) for seven whole days, forced to sit on a bed upright from 4:50 a.m. to 7:30 p.m., and more. He was bailed out on medical parole in November 2004 after being totally disabled; his muscles were atrophied and he could not take care of himself. His life was in danger.
Disabled and unable to look after himself, Mr. Lei Ming was still hounded, harassed and persecuted. The Prison Administration, the local police, and the neighborhood CCP office were all forcing him to write guarantee statements periodically, causing Mr. Lei Ming and his parents to live under huge pressure. In order to avoid being arrested again, Mr. Lei Ming had to leave home, even though he was disabled. He died on August 6, 2006 (See http://www.clearwisdom.net/emh/articles/2006/9/9/77818.html).
(1) The detainee is locked up in a very small cell individually. The guards handcuff practitioners on their back in a fixed position, in which the practitioners can neither move nor lie down. The small cell is very damp and no sunshine comes in. Detainees have to urinate and defecate in the cell. Only half of a regular meal is served to detainees locked up in a small cell during the daytime. During the night the rats are running around. The stench in the small cell is so bad that it is difficult to breathe.
(2) Stretching Bed is the most brutal torture instrument in Jilin Prison. The guards tie up four limbs of practitioners who have refused to give up their belief to a special bed. The bed has four rings. They fix a practitioner's hands and feet inside the rings, and put force on the rings. Now the practitioner's body is raised above the bed boards by stretching the four limbs. Additional force is then applied to the rings. The person loses consciousness in a few minutes. After 10 minutes, the joints, muscles, flesh, and skin are all separated.
An Ping, director of Gongzhuling City Prison: 86-434-6282001, 86-434-6289753
Su Baochen, deputy director of Gongzhuling City Prison: 86-434-6282002
Fu Guodong, deputy director of Gongzhuling City Prison: 86-434-6282003
Chen Zhongbin, deputy director of Gongzhuling City Prison: 86-434-6282004