(Clearwisdom.net) Practitioners in Poland held activities in Warsaw and Lodz to celebrate May 13, World Falun Dafa Day, the 18th Anniversary of Falun Dafa's public introduction and the 59th Birthday of Master Li Hongzhi.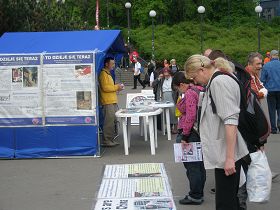 Local residents read display about the persecution of Falun Gong in China.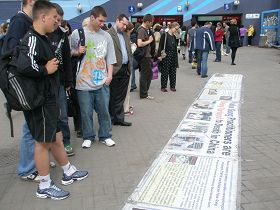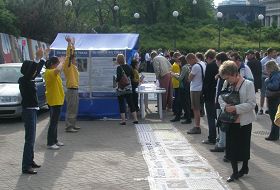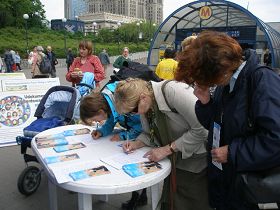 Local residents sign petition to condemn the Chinese Communist Party's (CCP's) persecution of Falun Gong.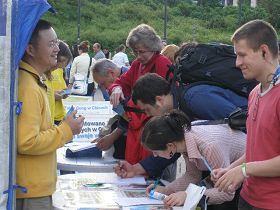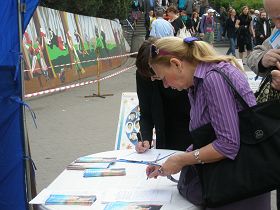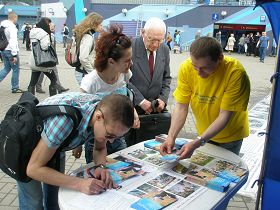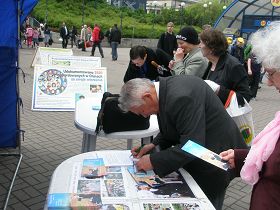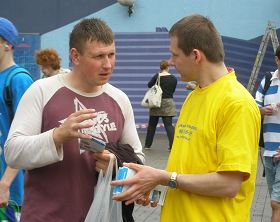 Talking about the persecution.
Falun Gong practitioners set up display at a central subway station in Warsaw and on a pedestrian street in Lodz early on the morning of May 13. They spoke about how hundreds of millions of people have benefited from Falun Gong, and about the brutal persecution in China. People expressed their indignation for the CCP's tyranny. They took brochures about Falun Gong and Nine Commentaries on the Communist Party and signed to condemn the persecution. Some shook hands with the practitioners and wished them success.
The beautiful music, "Pudu" and "Jishi" fascinated many people. More became interested in Falun Dafa and happily signed up for group exercise.
The activities were very successful.