(Clearwisdom.net) Shen Yun Performing Arts Touring Company premiered at Aula Magna in Louvin-la-Neuve on Friday, April 30. Françoise Van Caillie, a dance and movement professor from the Brussels-based Institut de Rythmique Jacques-Dalcroze de Belgique was in attendance, and was deeply moved by the performances.

"It's poetry in motion!" Ms. Van Caillie exclaimed after watching the show. "I know classical dance, but this is another level!"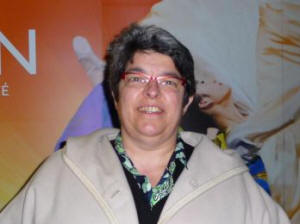 Francoise Van Caillie called the performances 'Poetry in motion!'
"It's fluid dance that comes from the heart and soul, that comes from experience. It's the soul that is speaking and dancing."

Shen Yun Performing Arts presents classical Chinese dance, an ancient art form that has been passed down from generation to generation. Ms. Van Caillie analyzed the dances from the perspective of an expert.

"I like everything that included the rhythmic parts, the dynamic, the different levels of tensions, and the tonicity, sometimes stronger, some other times weaker. I like the way the space was used, and different layers of it, and how the space was organized, this is just great," she explained.

"There were moments that were magnificent in space and rhythm. Sublime moments of exceptional quality and finesse."

She said that she wishes more people will have the chance to see Shen Yun. "Really, come and see [Shen Yun] to take in the messages that carry something very profound and that can deeply touch one. Come and see it with an open heart. It's really a priority!"
Piano Teacher: 'Everything is Perfect!'
Josette Kalandarian, a pianist and piano teacher who was born in Armenia, came to the first performance of the Shen Yun Performing Arts Touring Company at Aula Magna in Louvain-la-Neuve, Belgium, on April 30, with her friend Mrs. Dean.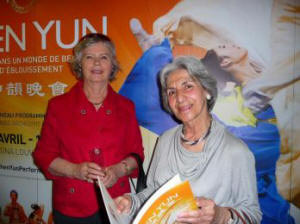 Josette Kalandarian (C) and her friend Mrs. Dean
Ms. Kalandarian said, "The sets and costumes are beautiful. Everything is perfect."

As a musician, she greatly appreciated the unique music played by the Shen Yun Touring Company Orchestra accompanying the dances, and said: "There is symphonic music, and Chinese music is also present... Sometimes the public is afraid of being in an alien world, but right here that wasn't the case, this music was much more adapted for us Westerners. It's a wonderful mixture of two kinds of music, the meeting of East and West.

Ms. Kalandarian was particularly moved by the solo erhu performance by Mei Xuan and her piano accompanist Ma Zhang. "The pianist and the player of the two-stringed instrument, it's wonderful," she said.

"I am delighted. I am rewarded. I can't find words to express the happiness to see such a show. By word of mouth we should talk about the Shen Yun show to people around us," she concluded.
Source:
http://theepochtimes.com/n2/content/view/34479/
http://theepochtimes.com/n2/content/view/34500/