(Clearwisdom.net) On the evening of April 23, 2010, Falun Dafa practitioners in Sydney, Australia gathered on the square outside of City Hall and held a candlelight vigil to commemorate the eleventh anniversary of the April 25 appeal. They also commemorated the more than 3000 practitioners who have died as a result of the persecution and condemned the Chinese Communist Party's atrocities.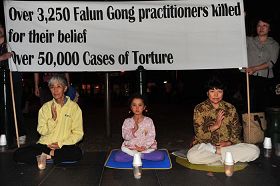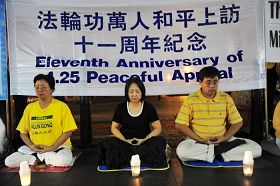 Candlelight vigil
Some practitioners held large banners with the words, "Eleventh anniversary of the April 25 peaceful appeal", and the event caught the attention of many passersby.
After passing by the candlelight vigil, Mr. Tienap from Bangladesh went to sit with the practitioners. When asked why he joined the event, he told this reporter, "I have a friend who practiced Falun Gong and became very kind. I think everyone should learn Falun Gong. I feel Falun Gong is good. I have come to support you."
Practitioner Guoping Deng, who has been in Australia for over one year, worked in DuPont's Shanghai branch. He recalled the situation on April 25, 1999, "One day before that day, we heard from other practitioners at our practice site that more than forty practitioners in Tianjin were taken away by police. Other practitioners in Tianjin went to the Tianjin CCP Committee to appeal and were told that Tianjin could not resolve the issue, but Beijing could. In addition, we knew that police occasionally forced practitioners to leave practice sites. Falun Dafa books were not allowed to be published officially. We could only buy pirated books at the time. We all decided to appeal the next day."
Practitioner Ms. Qu said, "A few passers-by came up to ask what we were doing, what the April 25 appeal is, and what Falun Gong is. Many of them have gone to China for business and know about the CCP's corruption and dictatorship very well."
Ms. Qu also said that she promoted Falun Gong with her own experiences and exposed the CCP's persecution. She said, "We don't have any political aspirations. We are just common people. We just want to practice Falun Gong, tell the truth and explain the facts, which is what the CCP fears the most. Those who don't know the facts should come to learn about it."