Names: Zheng Fangjun (郑方军)
Gender: Male
Age: 45
Address: Youcaogou Village, Fenshui Town, Anju District, Suining City, Sichuan Province
Occupation: Farmer
Date of Death: July 21, 2009
City: Suining
Province: Sichuan
Persecution Suffered: Electric shock, sleep and food deprivation, forced labor camp, beatings, solitary confinement, extortion
(Clearwisdom.net) During the past ten years, Mr. Zheng Fangjun was twice sent to a forced labor camp, detained four times, and brutally tortured. Mr. Zheng decided to leave home following his release in 2005, in order to avoid further persecution. He was homeless for years and constantly on the run, lacking a secure place to stay. He often skipped meals and spent long hours outdoors, rain or shine. The rough living took a toll on his health. He had trouble swallowing, constantly coughed, and vomited blood. He became so weak that he was always exhausted and had trouble breathing. Zheng Fengjun died at 9:00 am on July 21, 2009.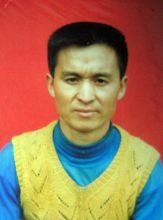 Mr. Zheng Fangjun
Mr. Zheng was born in 1965. He was a simple and humble farmer and always helped others.
Twice Visited Beijing; Arrested, Beaten, and Funds Extorted from His Family
Zheng Fangjun traveled to Beijing's Tiananmen Square on Chinese New Year's Day in 2001 to appeal for the right to practice Falun Gong. Shortly after his arrival, officers showed up and pushed him into a police van. They beat him on their way to Tiananmen Police Station. He was eventually transferred to a Sichuan liaison office in Beijing. The first night after Sichuan police took him back to his hometown, local police chief Shui Chaojian ferociously attacked him with punches and kicks. He also grabbed Mr. Zheng by the hair and repeatedly hit his head against a wall. Shui Chaojian shouted, "I don't give a damn about murders and arsons, but I simply cannot leave Falun Gong alone!" Mr. Zheng was sent to the Wujiawan Detention Center the next day. The police coerced his family to pay 5,000 . Mr. Zheng was scheduled to go home 15 days later. But when the police told him to sign a statement to stop practicing Falun Gong, he refused, so they kept him from being released and sent him to a police detention facility. Chief Shui Chaojian used a big stick to hit Mr. Zheng's ankle with a vengeance. Mr. Zheng was sent back to the Wujiawan facility and stayed there for an additional 38 days.
On April 20, 2000, Mr. Zheng, his parents, and a cousin went to Beijing together. They were arrested in Tiananmen Square. The police handcuffed him to a radiator pipe and denied him food and sleep. After he was escorted back to his hometown, he was tied up and humiliated in public in a parade. His parents and cousin were also detained for several days. Zheng Fangjun was later sent to the Ziyang County Dayan Forced Labor Camp for one year.
Tormented in the Labor Camp
Chengdu City police arrested Mr. Zheng on April 9, 2002. He was interrogated and tortured while in the Pi County Detention Center. The police subjected him to two years of forced labor. He served his time at Xinhua Forced Labor Camp, where he was physically and psychologically tormented. Deputy team head Fu Weidong ordered criminal inmates to tie him up tightly and pin him to the floor. They spat on and stepped on his face. Team head Dong Haibo, deputy Fu Weidong, and guard Li Changkun punched, kicked, and shocked him at the same time, until their electric batons were completely spent. Zheng Fangjun was forced to stand facing a wall for many days from morning till midnight, except for mealtimes. He resisted the persecution. Once he called out, "Falun Dafa is good" during a mass meeting. His forced labor term was extended by six months as a result.
The police did not inform his family that his 2.5-year term of forced labor had expired. Instead, Fenshui Town officials Yan Changquan and Lu Changlin picked him up. Lu Changlin confiscated 90 yuan (Zheng' s total savings) from him. On their bus ride home, Yan and Lu thought Zheng was asleep and discussed a plot to extort money from Mr. Zheng: they would lock him up in Suining and tell his family to bring several thousand yuan in return for his release. If they didn't pay, he would be sent back to the labor camp. When they finally got Mr. Zheng to his temporary place of detention, the two police officers went out to eat. Mr. Zheng managed to escape during this time. The penniless Mr. Zheng walked for more than 30 kilometers at night to a relative's home in Tongxian Town in Anyue County. After more than a month of hiding, he finally came home.
Forced to Become Homeless
In July 2005, one night at 9:00 p.m., officials Yang Changquan and Lu Changlin, a person from the local political and legal committee, policeman Wang, and a few others, led by Village Party secretary Wen Shenghe, forced their way into Mr. Zheng's house and arrested him. On the way to detention, he managed to jump into a river and escape. For four years after that, he could not return home and had to move from place to place.
On Chinese New Year's Eve in 2008, he secretly returned home and spent the night. He left early in the morning on New Year's Day, but the police found out. Unable to arrest Mr. Zheng, the angry police officers from Fenshui Town arrested his father and detained him in Yongxing Detention Center. They told the family to pay a 5000-yuan ransom, but the family did not comply. Finally, Mr. Zheng's father escaped from the detention center.
Since 2000, Mr. Zheng's family home has been ransacked five times. Drawers in the desks and cabinets were pried open, Falun Gong books were stolen, and other personal belongings, such as CD players and recorders, were confiscated.