Fellow Villagers Sign Petition Seeking Justice for Xu Dawei, Who Died as a Result of Persecution (Photos)
March 22, 2010
|
By our correspondent from Liaoning Province, China
(Clearwisdom.net) Falun Gong practitioner Mr. Xu Dawei from Qingyuan County, Fushun City, Liaoning Province, suffered severe abuse in prison. Due to the brutal torture, he suffered organ failure, his body was covered with cuts and bruises, and he suffered a mental collapse. He was finally released after eight years of imprisonment. However, he died only 13 days after his release, on February 16, 2009. Mr. Xu's fellow villagers showed great discontent with the fact that such a good man was persecuted to death. Dozens of people went to Dongling Prison, demanding an explanation for his death. Mr. Xu's family also persisted in petitioning for justice after his death. However, they were all turned away.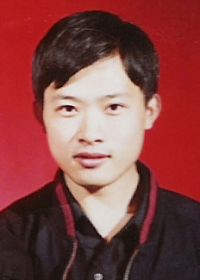 Mr. Xu a few months before being persecuted.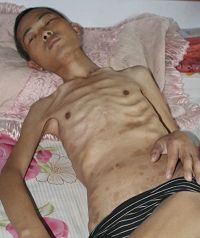 Mr. Xu after suffering severe persecution. He was emaciated and covered with electric shock marks.
Upon Mr. Xu's family's suggestion, 376 villagers from five villages signed a petition to appeal to the local government. They said that such a good person should not have been imprisoned and persecuted to death. They hoped that the government would hold the responsible people accountable for Mr. Xu's death.

Petition signed by 376 villagers
An older gentleman said, "Dawei has not harmed anyone else's interest. It is only because of his beliefs that he was persecuted and died. This is unfair, and his family should appeal." After learning that Mr. Xu Dawei was persecuted to death in prison, an old woman became very angry and said, "Those bad people who committed the persecution should be executed."
An older gentleman who was Mr. Xu's neighbor helped in the process of getting the villagers' signatures.
The local government and police ignored all of the petition requests, and they even threatened the family not to upload the petition onto the Internet.
The content of the petition is as follows:
Please Pay Attention to People's Appeal
To the justice departments at all levels:
We are villagers from Yuanzigou Village, Ying'emen Town, Qingyuan County, Fushun City, Liaoning Province. We are going to tell you a true story in this appeal that will shock all Chinese people of conscience. A man was persecuted to death, but his family could not obtain justice. Our fellow villager Xu Dawei was sentenced to eight years imprisonment due to his belief in Falun Dafa. From the end of 2007 to February 3, 2009, he was detained in Dongling Prison, where he suffered inhuman torture. He was persecuted both physically and mentally. During the imprisonment, his family was not allowed to see him. His health was in grave danger when he was released. He passed away only 13 days after his release. Dongling Prison is to blame for his death.
After eight years of waiting, his family finally saw him on February 3, 2009. What they saw was a bony body covered with cuts and bruises. Mr. Xu had suffered a mental collapse and there remained only a dull look in his eyes. Even when he was at home, he dared not move at all, but stayed in the corner of his room. His family tried to assure him by telling him, "We are at home now." It took them a long time to persuade him to calm down. He passed away 13 days after his release. According to the doctor, his heart, lungs, spleen, and kidney were dysfunctional, which demonstrated that Mr. Xu had suffered brutal torture in Dongling Prison. The police at Dongling Prison disregarded people's lives and did not provide any medical care to people in grave jeopardy. They did not follow the law that allows inmates to leave the prison and get medical treatment. They forbade Mr. Xu's family from seeing him, and thus his family did not know what happened to him. The police there took away the citizens' right to learn the truth. Many of our fellow villagers are angry with what the prison did to Mr. Xu. We went to speak to the prison. None of the relevant departments, however, have given us any answers.
We have all read the indictment for administrative compensation written by a lawyer. We are here to express ourselves from a legal perspective. We are here to represent our fellow villagers. We all know that Mr. Xu's wife and other family members have been to many government offices in the hopes of investigating Dongling Prison for its persecution of Mr. Xu. To this day, however, there has been no response from any government office. After consulting with lawyers, they went to the justice departments to sue the prison. However, their request was turned down again and again.
As a Falun Gong practitioner, Mr. Xu Dawei was a good person in our village. He was kind to others. He was a young man with integrity and everyone liked him. He was jailed only because of his belief in Falun Dafa. He suffered brutal torture in the prison and lost his life. This incident not only brings his family great sorrow, but also reflects the great sadness of modern society. If this case is not addressed fairly, the government will lose the people's faith. We really hope that the government can listen to the people's voices and address this case fairly. Only then can we feel assured.
We truly believe that the government and relevant justice departments will do their duty and enforce the law impartially. We urge the police and the judicial branch to place Mr. Xu's case on file for investigation and prosecution, inquire into the responsibility of Dongling Prison, and compensate Mr. Xu's family. We sincerely hope that justice will be served. Thank you very much!
Written on March 11, 2010