Malyasians Celebrate 70 Million Chinese People That Have Quit the Chinese Communist Party and Its Affiliated Organizations (Photos)
March 16, 2010
|
By a Falun Dafa practitioner in Malaysia
(Clearwisdom.net) Within five years, the number of people who have registered their resignations from the Chinese Communist Party (CCP) and its affiliated organizations on the Epoch Times' Quit-the-CCP website has reached close to 70 million. The Malaysia Service Center for Quitting the CCP, along with locals, held a rally on March 14, 2010, at a famous scenic spot in Kuala Lumpur to celebrate and congratulate these 70 million brave Chinese. They also called upon more people who have been deceived by the CCP's lies to learn the facts and break away from the Party, especially those inside the CCP system who have a conscience but still do not positively understand the and the grand tide to quit the CCP.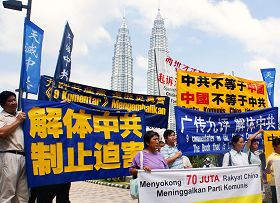 The Malaysia Service Center for Quitting the CCP and many locals celebrate the 70 million Chinese people who have quit the CCP
At 11:00 a.m., volunteers for the Service Center for Quitting the CCP and supporters arrived at the rally venue--the square where tourists view Malaysia's famous landmark Twin Towers. They held banners reading, "Support 7 Million Chinese People That Have Quit the CCP," "Heaven Will Eliminate the CCP, Heaven Will Protect China," "The CCP Is not China, China Is not the CCP," "Disintegrate the CCP, Stop the Persecution" in Chinese, Malay, and English.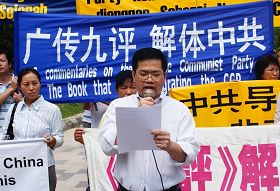 Mr. Peng, spokesperson for the Quit the CCP Center, addresses the rally
Mr. Peng, spokesperson for the Service Center for Quitting the CCP, pointed out in his speech that the world needs a healthy and free China, and the world also needs every government and individual to side with the righteous, working together to eliminate the hazards of the Chinese Communist totalitarian regime. He further explained that, since the publication of the Nine Commentaries at the end of 2004, more and more Chinese have gone from passively enduring the suppression to making active efforts on a large scale to disintegrate the CCP and stop the persecution. As of today, more and more Chinese who have learned the facts are daring to stand up against the CCP's tyranny and publicly renounce it. Nearly 70 million Chinese have publicly declared their renouncement of the CCP and its affiliated organizations.
Mr. Lin and Ms. Li, who fled China to Malaysia, said that they were delighted to witness the rally. They called upon people to read the Nine Commentaries, distinguish righteousness from evil, and take seriously this grand tide to quit the CCP.
The rally drew the attention of tourists and tour guides, who came and learned the facts.