(Clearwisdom.net) Shen Yen's last performance at New York's famed Radio City Music Hall took place on Sunday, February 21, 2010. Inspirational author Tabitha Vinson said after the show, "Everybody should be able to come to see this, to be able to ... grasp, just to be able to get ideas, to be inspired."
Ms. Vinson is the author of Check Your Keys-Part 1 and founder of Vinson Publishing. She is also a playwright and has been involved in theatrical productions.
"A friend of mine had asked me to attend this, and when I saw it, and myself being a dancer, to be able to see all of the dance attire, the colors, the spiritual meaning, the spiritual undertones--it was such a blessing to be able to see," she said.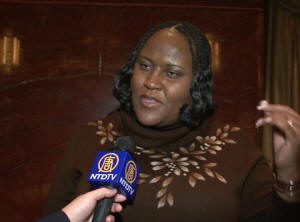 Inspirational author Tabitha Vinson
"The show," said Ms. Vinson, "was very diverse," and "everything just came together."
"The flow, along with the backdrops, the computer animation, ... everything was such a beautiful thing," she said. "Awesome, simply awesome."
Record Company Founder Says Shen Yun Touches Her Heart
Patricia Chin, founder of VP Records, also attended the Shen Yun show on Sunday. VP Records is a long-standing independent label which has focused on Reggae and artists from the Caribbean for thirty years.
Ms. Chin responded enthusiastically to the performance. She said, "Oh it's so beautiful! The music, the background, the costumes, it touches my heart. It's very special."
Ms. Chin described her feelings while watching the two dances which tell stories set in contemporary China. She said, "[It was] very emotional to see the struggle and how the people overcome the struggle."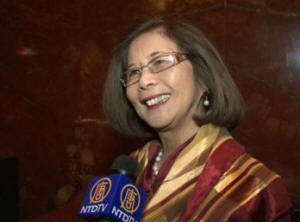 Patricia Chin, founder of VP Records
Ms. Chin, a New Yorker who came from Jamaica, is a third-generation Chinese on her mother's side, and her father is from India. "So we know the struggle," she said.
"This is my second time seeing the show and I truly enjoy the scenery, the music, the dancing, [it] touches my heart."