Disabled Practitioner Ms. Gao Qiying Dies in Custody
February 19, 2010
|
By a correspondent from Guizhou Province, China
Name: Gao Qiying (高其英,学名高贵)
Gender: Female
Age: 40
Address: Zunyi City, Guizhou Province
Occupation: Small business owner
Date of Death: February 12, 2010
Date of Most Recent Arrest: June 12, 2008
Most Recent Place of Detention: Guiyang City Police Hospital (贵阳市公安医院)
City: Guiyang
Province: Guizhou
Persecution Suffered: Illegal sentencing, forced injections/drug administration, detention
(Clearwisdom.net)
Ms. Gao Qiying was only four feet tall, and she was born crippled. She had a large bump on her chest and also on her back, and had difficulty breathing when she walked. She and her younger brother Gao Guoyuan had been orphans since they were young. After cultivating Falun Dafa, she felt very energetic both physically and spiritually. She made a living by taking photos for tourists, and supported her two sons going to school.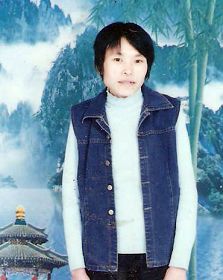 Ms. Gao Qiying
The Olympic torch was scheduled to arrive in Zunyi City on June 14, 2008. The police were closely watching all Falun Dafa practitioners in the city who were on a blacklist. On June 12, 2008, a few dozen officers stormed into Ms. Gao's home, took the computer and printer that she used to run her photography business, and detained her in the Nanbai Town Detention Center, where she was tortured until she was in critical condition and hospitalized. The doctor had her tied up on a bed and was giving her intravenous injections.
She was sentenced to prison from October to November 2008, and then transferred to the Yangai prison. Her family visited her at the end of January 2010 and she did not look ill, but Ms. Gao told them the prison administration forced her to take unknown drugs, which caused her to lose feeling in her feet. The prison administration asked her family to leave a contact phone number during their visit, which had never happened before.
On February 11, 2010, Ms. Gao was taken to the Guiyang City Police Hospital, and the prison administration called her family to visit her. On their way there, they heard she died at 12:55 p.m. on February 12, 2010.
Ms. Gao's younger brother Mr. Gao Guoyuan, used to be a security guard, and had a high level of martial arts gong-fu training. In 2001, the police sentenced him to three years of forced labor, and detained him in the Zhongba Forced Labor Camp. Even with long term inhuman torture, he still kept following the principles of Falun Gong to not hit back when hit or curse back when cursed, and he always spoke kindly to others. Guards Yang Renshou and Li Jiliang instructed drug addicts Guo Lin and Long Xutao to beat him so hard in May 2004, that his whole body festered, his mind became blurry, his reactions became slow, and he developed a mental disorder. Inmates forced him to eat feces and drink urine.
Mr. Gao returned home in 2004, but his house was damaged by rain due to it being vacant for many years. He had to do labor in Guangdong Province to make a living. On August 30, 2007, officers from the Dongguan City 610 Office arrested him in the Wanjiang District, and sentenced him to another 18 months of forced labor. He was taken to the Guangdong Province Sanshui Forced Labor Camp on November 16, 2007. After this term ended, he was again arrested on November 3, 2009, and released on that day.
Warden Song, Yangai Prison: 86-13985420446 (Cell)
Office chair Shuai: 86-13518518031 (Cell)
Guard Jin: 86-13885195749 (Cell)
Prison Hospital director Jin: 86-13984876296 (Cell)
Related reports:
http://www.clearwisdom.net/emh/articles/2005/10/7/65638.html
http://www.clearwisdom.net/emh/articles/2006/4/24/72367.html
http://www.clearwisdom.net/emh/articles/2008/8/4/99515.html