(Clearwisdom.net) On January 29, the Shen Yun Performing Arts New York Company presented two shows at the Mahaffey Theater at the Progress Energy Center in St Petersburg. The pure compassion and beauty of Chinese traditional culture and arts captivated the hearts of the audience members.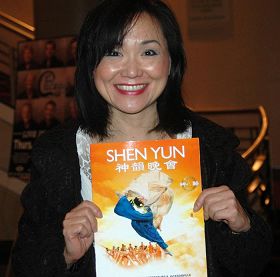 Ms. Peifang Xu, Chinese business chamber vice chair: Shen Yun has deeper meaning
Ms. Peifang Xu was deeply touched last year by the 2009 Shen Yun show. This year, she bought the best seats.
"Shen Yun conveys a spiritual message, and it brings us hope. What is the purpose of life? If we don't have hope and don't know what the purpose of life is, life can be really boring. I heard about Falun Gong before and I think 'Truthfulness-Compassion-Forbearance' is very meaningful. After the show, I now want to learn more about it to figure out the purpose of life," said Ms. Xu, who is the vice chair of local Chinese business chamber.
Dr. Wang, a professor, came from Hubei Province one month ago to visit her daughter. She watched the 2008 Shen Yun DVD in China and was delighted to see the Shen Yun show live. She said, "I am not a professional dancer. However, I just feel the show is very beautiful. In addition, it is very touching, really touching. The opening act was astonishing! From the choreography, music, the backdrop, every detail is well-done. You can tell that they worked extraordinarily hard to make such an excellent program. I think that Shen Yun has done a great deal to promote Chinese tradition."
Beijing schoolteacher Ms. Li makes frequent trips to the U.S. to visit her adult child. For this reason, she has managed to see Shen Yun four times in the last three years. She said, "The dancers are very devoted and thus their performance is very touching. It is really the best show in the world... Shen Yun portrays authentic Chinese culture, which is not seen in China. Before 1949, my family worshiped and believed in divine beings. When the Chinese Communist Party (CCP) took over the country, it destroyed everything, not allowing people to believe in anything but communism."
When the reporter told Ms. Li that many overseas Chinese people didn't dare to watch Shen Yun because of their fear of the CCP, she commented, "Chinese people who have managed to come to the U.S. are mostly the best of the best. They are in the land of the free, what do they have to be afraid of? I have seen the show three years in a row. I'm not afraid, and party's days are numbered."
Ms. Li was deeply touched by the act about Falun Gong practitioners being persecuted in China. "I cried, the Chinese Communist Party (CCP) persecutes Falun Gong practitioners very brutally. The party is very evil."
Regarding the CCP's interference of Shen Yun performances, Ms. Li said, "The CCP interferes with Shen Yun because it is afraid of the Chinese people seeing authentic Chinese culture. I hope that Shen Yun will perform in China one day."
Afu came to see Shen Yun with nine friends. He recently came to the U.S. from Fujian Province and was delighted by everything. "The dancing is outstanding. The folk dance is very good, and the backdrop is out of this world! I am very proud to see that Shen Yun can perform in such a large theater and so many westerners also enjoyed the show," he said.
Regarding the act which depicted divine beings and the persecution of Falun Gong practitioners, he said, "Divine beings have come. People need to have faith and belief, and should be compassionate to others. Without faith and belief, people can do anything and this is not good for society."
Ms. Wang and her husband were very happy after the show. They said, "The show gave us a very pleasant feeling for both body and mind."
"The dancers are very professional. I like their movements and facial expressions. Their smiles are very special!" Ms. Wang added.
May Zhuang watched the show with her mother, sister and daughter. "This is our first experience with Shen Yun. I think the show is excellent from all perspectives. I like the traditional culture and values portrayed by the show. This is what we have learned about from our parents." Zhuang is a quality control specialist at a major biomedical testing company.
When asked about recent events in Hong Kong, where local government interference led to the shows' cancellation there, Ms. Zhuang said, "I think Shen Yun is great. It is very regretful that Hong Kong's people can't see it."