(Clearwisdom.net) The cancellation of seven sold-out Shen Yun Performing Arts shows in Hong Kong due to the Hong Kong authorities denying entry visas to six key technical Shen Yun staff came as a shock to many artists in Taiwan, especially those who have seen the show in recent years.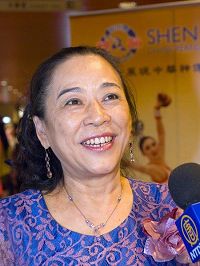 Mr. Li Zhixie, his mother and daughter at a reception on February 28, 2009
Renowned actor Li Zhixi saw the 2009 Shen Yun show and was impressed by the production's high artistic achievement. "Shen Yun Performing Arts was established by a group of overseas Chinese people out of their passion to preserve traditional Chinese culture and arts. It is an amazing achievement for them to bring these shows to the world stage so that more people can learn about authentic Chinese culture.
"I studied dancing in my childhood and so I have a basic knowledge about dancing. Shen Yun portrays Chinese culture over five thousand years, through dance, and the programs are very moving. I hope that more people will have a chance to see the show. It is a big loss for the people of Hong Kong to miss the show due to political interference from Mainland China."
Ms. Huang Xiu-Wan, director of the Asia Pacific Bands Association Taipei Chapter, saw the 2009 Shen Yun show in Taipei and was deeply impressed by the company's breathtaking backdrops and music. Upon hearing the news from Hong Kong, Huang said that she had never heard of an incident of this kind before. She said that art is without borders and cannot be mixed with other factors. She felt very sorry for the Hong Kong people's loss.
Musician Ou Yuan-Fan also saw the 2009 Shen Yun show. From the perspective of a musician and educator, she commented that art should have its special role in education. "I enjoyed Shen Yun last year, and the show is now very well-known and popular, as it has a good effect on the preservation of culture and on artistic education. Shen Yun uses modern choreography and musical compositions to portray traditional Chinese culture, and it has inspired many people to search for tradition.
"Unlike Taiwan, which is deeply rooted in Chinese tradition, the culture of Hong Kong is more westernized and thus it is all the more important for people there to see the Shen Yun show. I am really sorry for their loss," said Ms. Ou.