(Clearwisdom.net) The Divine Land Marching Band composed of Falun Gong practitioners participated in the 7th annual Rogers Vancouver Santa Claus Parade on December 5, 2010 in downtown Vancouver. It is the largest Christmas parade in the Vancouver area. Partipating groups this year included more than 60 performing and choral groups, entertaining more than 300,000 spectators. The Divine Land Marching Band was the only entry that is predominantly composed of Chinese.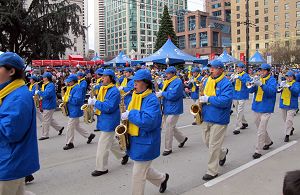 Divine Land Marching Band in the Rogers Vancouver Santa Claus Parade on December 5, 2010
There were more than a dozen bands in the parade. Many Chinese immigrants who had not lived in Canada for very long were surprised upon seeing such a large marching band of Falun Dafa practitioners. A woman from Guangzhou called out in excitement, "Falun Dafa!"
The band performed "Falun Dafa Is Good," "Fa Drums," "The Fa Rectifies Heaven and Earth" and "Delivery of Treasures." Spectators on both sides of the parade route seemed impressed by the band, as many people stopped laughing and making noise so as to watch and listen to the performance. Many people clapped and danced to the rhythm of the music.
It was a cold day, but members of the Divine Land Marching Band were in high spirits. They were very pleased to see so many spectators who could encounter the goodness of Falun Dafa.