Malaysia: Protesting the CCP's Persecution on International Human Rights Day (Photos)
December 13, 2010
|
By a practitioner in Malaysia
(Clearwisdom.net) On December 10, 2010, International Human Rights Day, Falun Gong practitioners in Malaysia held an event in front of the Chinese Embassy to protest the Chinese Communist Party (CCP)'s persecution of Falun Gong practitioners in China. They called on the world's people to take action to help stop the inhumane persecution.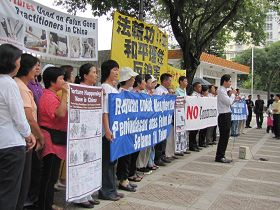 Falun Gong practitioners in Malaysia protest CCP's persecution in front of Chinese Embassy
During the 30-minute rally, Falun Gong practitioners held up banners and posters, with photos exposing the CCP's brutal persecution of Falun Gong practitioners.
Falun Gong spokesperson Mr. Cai said in his speech, "On July 20, 1999, former CCP head Jiang Zemin initiated the persecution of Falun Gong. Practitioners in China and around the world have conducted peaceful protests for eleven years."
He pointed out that the CCP uses all means, including more than one hundred torture methods, to persecute Falun Gong practitioners. Among the torture victims, the majority have been women and elderly people. During the past eleven years, more than 3,400 Falun Gong practitioners were tortured to death, which are only the documented cases to have made their way out of China.
Mr. Cai said, "In 2006, insiders disclosed that CCP doctors harvested vital organs from living Falun Gong practitioners and had the remains cremated to destroy the evidence. Unknown numbers of Falun Gong practitioners were killed in agony like this."
He continued, "In the past eleven years, Falun Gong practitioners in China upheld the principles of Truthfulness, Compassion, and Forbearance and conducted peaceful protests. Practitioners in other countries raised awareness through various efforts. Their activities have helped many governments and people learn of the situation and show their support. In contrast, the CCP has lost support during the persecution and faces its demise with the growing movement of quitting the CCP and its affiliated organizations."
He declared at the end of his speech, "On this International Human Rights Day, we call on the Malaysian people and people across the world to continue supporting Falun Gong and help stop the persecution."
Background
Falun Gong, also known as Falun Dafa, is a traditional Chinese spiritual discipline for mind and body. The practice involves slow, gentle movements and meditation. It is easy to learn, enjoyable to practice, and free of charge. Its principles are based on Truthfulness-Compassion-Forbearance. The practice began in China in 1992 and quickly spread by word of mouth throughout China and then beyond. Its beneficial effects in uplifting an individual's physical health, spiritual well-being and moral character, not to mention its positive influence in the community and society as a whole, have been undeniable. In fact, Falun Gong is practiced by over 100 million people in more than 100 countries. The main works of Falun Gong are available in over 30 languages.