Ms. Wang Sulan is Tortured to the Brink of Death
November 28, 2010
|
By a Clearwisdom correspondent from Hebei Province, China
Name: Wang Sulan (王素兰)
Gender: Female
Age: 48
Address: Tangshan City, Hebei Province
Occupation: Worker
Date of Most Recent Arrest: February 2009
Most Recent Place of Detention: Hebei Provincial Women's Prison (河北省女子监狱)
City: Shijiazhuang
Province: Hebei
Persecution Suffered: Brainwashing, illegal sentencing, imprisonment, ransacked home, detention, beatings, extortion.
(Clearwisdom.net) Because of torture by the local police and prison wardens, Wang Sulan is suffering from multiple diseases and has been sent for emergency treatment several times since she was imprisoned.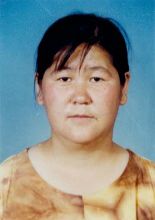 Wang Sulan
Wang Sulan was a worker at the Qianyin Company of Mine Supplies and Services in the Fengnan District, Tangshan City. Before she began practicing Falun Gong in 1996, she had many diseases, including myocardial ischemia, myocarditis, antral gastritis, and a slipped disc, immobilizing her and making her unable to work. All of these disappeared, however, after she began practicing Falun Gong. Not only did she and her family save a great amount of money for treatment, but she could also take on paid jobs and housework.
However, because of her spiritual belief, Wang Sulan has been arrested, beaten, and persecuted financially. The police have searched her home many times since the Chinese Communist Party launched the persecution of Falun Gong in 1999.
Wang Sulan was secretly sentenced to nine years of imprisonment in 2009 and is currently held in Section 6 of the Hebei Provincial Women's Prison in Shijiazhuang. Her family members brought her some clothes, but a warden named Liu did not allow her to receive them. He told the family members to bring her money to buy clothes from the prison. The wardens also asked the family members for money in the name of medical treatment for her. Once, they said the money was for IV treatment and stopping bleeding and another time for an operation. Due to worrying about and missing Wang Sulan, her husband was distracted and had an accident. He is currently recovering at home. The wardens forced her to call home asking for money to be sent to the prison. Her mother-in-law received the phone call and was really troubled by her suffering. Her husband felt there was no other choice but to send the prison 16,000 yuan as required by the wardens.
Wang Sulan is currently being treated at the Shijiazhuang Police Hospital. She underwent an operation to remove her uterus, but the wardens informed the family to send them another 20,000 yuan for a second operation to remove a malignant tumor. A regular operation to remove a uterus costs less than 10,000 yuan. Her family members are deeply worried by the way the prison treats her. They want to know about her health condition, the details of the operations and what the money was for.
Relevant personnel:
Director of Hebei Provincial Women's Prison: 86-311-83939689
Director Li, Hebei Provincial Women's Prison: 86-15710359102 (Cell)
Related article:
http://clearwisdom.net/html/articles/2010/5/8/116771.html
Chinese version available at http://minghui.ca/mh/articles/2010/5/3/222769.html