Malaysia: Practitioners Warmly Received on the Island of Pulau Ketam (Photo)
January 30, 2010
|
By a Falun Gong practitioner in Malaysia
(Clearwisdom.net) Practitioners held activities, including group exercises and a performance by the Divine Land Marching Band, to introduce Falun Gong at Jetty Sungai Lima on Pulau Ketam (also called Crab Island) in Selangor, Malaysia on January 24, 2010. They received a warm welcome from villagers and local authorities.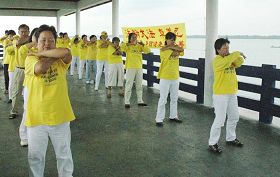 Practitioners do the exercises at Jetty Sungai Lima, Selangor, Malaysia
Practitioners arrived in Sungai Lima, a fishing village, at 1:00 p.m., where they found the village head waiting for them at the jetty.
The Malaysian company of the Divine Land Marching Band performed on the island two years ago on Malaysia's national holiday. The band returned today and marched in this island village once again. Villagers enthusiastically applauded the performance. Other practitioners handed out flyers about Falun Gong along the parade route.
A villager told the coordinator of the activity that he had been looking forward to this event. Another villager recalled that he had seen the performance by the Divine Land Marching Band at Port Klang at last year's Lantern Festival, and he was deeply impressed.
After the parade, practitioners did the exercises at the jetty. Villagers were impressed by the gentle and smooth movements. Some wanted to learn Falun Gong after they learned how it has brought physical and mental well-being to people of different nationalities in over 100 countries.