Remembering Dafa Practitioner Mr. Wang Gang (Photo)
January 16, 2010
|
By a Dafa practitioner in China
(Clearwisdom.net)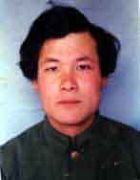 Mr. Wang Gang
Mr. Wang Gang was a farmer in Xiweituo Village, Yihezhuang, Matou Town, Zhuozhou City, Hebei Province. After he started practicing Falun Gong, he used the standard of Truthfulness-Compassion-Forbearance to measure his thoughts and actions. He showed great kindness to other people and was willing to help them unconditionally.
The first time I heard about Mr. Wang was when I went to see some practitioners who were illegally detained in prisons. They told me that there was a practitioner named Wang Gang who was being detained in the hospital in Jidong Prison, and he was in critical condition at that time. They asked me if I could help him. After I got home, the first thing I did was to find Mr. Wang's wife. She told me that he was a very compassionate person who was always willing to help others. For example, one day, his neighbor and he went to buy fertilizer for the field. After they got home, he found there was an extra bag of fertilizer that wasn't paid for. He immediately returned it to the seller. During 2001 and 2002, when the Chinese Communist Party (CCP) started persecuting practitioners, in order to let people know about the persecution, he bought a copying machine (although he wasn't very wealthy) and started making truth-clarification materials.
When he was detained in a detention center in Zhuozhou City, he gave some of his food to the inmates and went hungry himself. He always put others' interests first before his own. He also gave some of his clothes and blankets to his fellow inmates who needed them. Because of his kindness, his fellow inmates were deeply moved.
When Mr. Wang was tortured in Boding Prison, he shouted "Falun Dafa is good and Truthfulness-Compassion-Forbearance is good." He refused to renounce the practice or sign papers saying so. On May 19, 2005, when he was detained in Boding Prison, he was locked in a confinement cell. Gao Ying, the head warden, was assigned to torture him. Gao tied him to a bed, and his legs were shackled and his hands were handcuffed. He wasn't allowed to talk for 10 days and he was only given a little bit of water to drink. At 4 a.m. on May 27, Fan Jianli and Ran Lin, heads of the politics department in the prison, went to the confinement cell to interrogate him: "Who was the person that allowed you to put a pad underneath your body?" They started kicking his legs and pulled the pad out of the bed. Fan ordered him to come to see him in the controlling room. Mr. Wang said he couldn't go because he had leg pain. Fan ordered an inmate to forcibly drag him to the outside area of the controlling room. After Mr. Wang crawled into the room, Fan started kicking him until he fell down to the ground. He repeated this three times. During a physical check-up on May 28, the hospital told Mr. Wang that he had a bone fracture in the right leg, his muscles and blood vessels had become necrotic, and he had vascular inflammation. Gao Ying, the head warden, refused Mr. Wang's request to notify his family, and forced him to undergo amputation. He was detained in the hospital and couldn't see his family. The warden and guards feared that Mr. Wang would expose their evil deeds, so they secretly transferred him to Jidong Prison.
When Mr. Wang was detained in the hospital in Jidong Prison, he shouted "Falun Dafa is good and Falun Dafa is a righteous way!" everyday. One day, in order to protest, he went on a hunger strike. The captain got furious and took away his crutch so that he couldn't walk. Mr. Wang used the opportunity to expose him, leading to a public outcry against him by some of the officers. A few days later, he returned the crutch to Mr. Wang.
Mr. Wang is a responsible person. He repeatedly wrote to his wif, "You've worked hard. Please wait for me to come home." Even when he was living under harsh conditions in the prison--he had only one leg, hypertension and other medical conditions--he still wanted to write letters to his son, encouraging him to live virtuously.
Perpetrators who were responsible for Mr. Wang's death include:
Fan Jianli, former head of the 610 Office in Boding Prison (now head of the Political Department in Taihang Prison)
Hao Boxin, Deputy Chief of the Fourth Battalion in Jidong Prison in Tangshan City
Li Tieying, captain of the Public Security Bureau in Zhuozhou City
Shao Changzhen, party secretary of Yihezhuang
Fu Weihui, the mayor of Yihezhuang
Wang Jinfeng, secretary of the political and legal committee
Ren Binghui, former political and legal secretary in Yihezhuang
Ma Shumei, former party secretary of Yihezhuang
Bai Jinghua, former mayor of Yihezhuang
After the city government of Zhuozhou and the 610 Office sent Mr. Wang Gang home, they cheated Mr. Wang's family by saying that since Mr. Wang was home, he was not eligible for any kind of compensation. They killed an innocent, good person, leading to great harm for his family and two children.