Name: Yang Xiaojing (杨小晶)
Gender: Female
Age: 45
Address:
Occupation:
Date of Most Recent Arrest: April 2004
Most recent place of detention: First Brigade, Beijing Women's Forced Labor Camp
City: Beijing
Persecution Suffered: Physical Constraint; Brainwashing; Forced Labor; Beatings; Solitary Confinement
Key Persecutors:
(Clearwisdom.net) Hoping to rescue his wife Ms. Yang Xiaojing, on May 21, 2006, Falun Gong practitioner Mr. Cao Dong from Beijing met with European Parliament Vice President Mr. Edward McMillan-Scott in Beijing on May 21, 2006. Mr. Cao informed Mr. McMillan-Scott of the brutal persecution suffered by himself, his wife and other practitioners around him. Two hours after the meeting, Chinese Communist regime security agents arrested Mr. Cao and transported him back to his hometown in Gansu Province. Mr. Cao was sentenced to five years of imprisonment on February 8, 2007 and has since been detained at the Tianshui Prison, Gansu Province. At the end of August 2006 his wife, Ms. Yang Xiaojing, was released after being abused at the Beijing Women's Forced Labor Camp. She has sought help in making her voice known to the public, but Communist regime agents have been threatening her.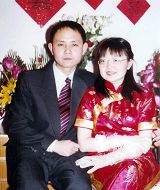 Yang Xiaojing and her husband Cao Dong
Honeymoon in Havoc
Ms. Yang Xiaojing is 45 years old. She was employed in the Beijing Power Supply Design Institute's computer center where she was an important and respected resource. She was removed from the computer center following the Appeal for publishing Master Li Hongzhi's articles on the Institute's Intranet in an attempt to let her colleagues see through the regime's propaganda about Falun Gong.
Ms. Yang Xiaojing and practitioner Mr. Cao Dong were married on February 24, 2000. On March 5, 2000, Mr. Cao Dong went to visit his hometown, Qingyang City, Gansu Province. On his way back to Beijing, railroad police captured Mr. Cao and another practitioner. He was detained for 17 days in a Drug Rehabilitation Center in Inner Mongolia.
Party branch secretary Wang Xiuyan from Beijing Power Design Institute had many conversations with Ms. Yang Xiaojing and coerced her to write a to give up Falun Gong practice. To avoid affecting other colleagues at the workplace, Ms. Yang decided to leave her job. However, the Institute stated that Ms. Yang was breaching labor discipline and ended her work contract.
Jianguomen Police Station agents went to Ms. Yang's home on October 1, 2000 and ordered the couple to the station. They refused, thus they fled their home to avoid further persecution. They had no source of income.
Captured for the First Time; Husband Sentenced
While homeless, Ms. Yang returned to her home to take a shower on May 21, 2001. Officer Wu Liya from Jianguomen Police Station was waiting at her house, arrested her and sent her to a brainwashing center at the Fenghuang Hotel in Dongcheng District. Ms. Yang went on a seven-day hunger strike to protest her detention. The persecutors sent Ms. Yang to the Dongcheng Police Department Detention Center, then she was sent to Beijing Women's Forced Labor Camp for one and a half years of forced labor.
While Ms. Yang Xiaojing was later held at the Fifth Division of the Labor Camp, division head Chen Aihua personally participated in and incited prisoners to persecute Ms. Yang and forced her to "." This caused her to suffer a mental collapse. She did not recover until 2002 and returned home on November 30, 2002.
By the end of December 2002, Ms. Yang Xiaojing went to visit Mr. Cao Dong in the Pingliang Prison in Pingliang, Gansu Province where Mr. Cao was serving a four-and-a-half year sentence. Ms. Yang Xiaojing rented an apartment in Pingliang for eleven months in order to visit Mr. Cao.
Captured for the Second Time; Sent to a Forced Labor Camp
In April 2004, six agents from the Beijing's Yayun Village Police Station in the Chaoyang District and officials from the Domestic Security Division of the Chaoyang District Police Department broke into Ms. Yang's parents' home. They ransacked it and also Ms. Yang's home. Ms. Yang was once again arrested and held in the First Division of the Beijing Women's Forced Labor Camp.
Ms. Yang Xiaojing experienced the brutality of the "Attack Team" in February 2005. Starting at 5:00 a.m. she had to sit on a "high board" (a 60 centimeter-tall square plastic stool - about 23.62 inches tall). She could only sit on the side of it, with feet together. Feet and legs had to be together; otherwise, she would be beaten. Her hands with fingers closed must rest on the thighs; eyes had to look straight ahead. If the eyes were closed or she got sleepy, she would be beaten. She had to sit on the bench all day, except for eating. Some practitioners fell from the "high board" after sitting on it for several days. Their buttocks festered. During that period, their daily rations for each meal consisted of a scant portion of rice. Practitioners were forbidden to sleep until 12:00 a.m. Two inmates double-teamed a single practitioner in a cell, and several inmates took turns monitoring a practitioner. They recorded everything the practitioner did. They forced the practitioner to keep sitting on the "high board" until they were "reformed." The "Attack Team" was not disbanded until August 2005.
In September 2005 the officials returned Ms. Yang Xiaojing to the First Division. She was weak, but head Chen Li compelled her to take on heavy-duty work that required her to have her head down for a long time, which resulted in severe neck pain.
In July 2006 two people from the National Security Bureau arrived and ordered her to write to Mr. Cao Dong and persuade him to "reform." Ms. Yang refused.
Appealing for Husband; Harassed, Threatened and Captured
Ms. Yang returned home by the end of August 2006 and began searching for the truth about Mr. Cao's capture. The regime agents issued a formal arrest warrant on September 30, 2006 and delivered it to Cao Dong's parents in Qingyang City, Gansu Province. But Ms. Yang was not informed until the end of October 2006.
To seek justice for her husband, Ms. Yang began to travel between Beijing, Lanzhou, Pingliang and Qingyang to look for a defense lawyer for her husband.
In February 2007 Mr. Cao was tried in Lanzhou City, Gaosu Province. The defense lawyer successfully argued for a reduction in criminal charges. The lawyer also agreed to continue to appeal for Mr. Cao. However, under duress from National Security Bureau agents, the lawyer was afraid to mention the CCP's evil organ harvesting from living practitioners during the second trial, which ended with a written statement in March 2007.
Ms. Yang and Mr. Cao's friend, Yu Zhou, were looking for lawyers in Beijing in August 2007. Yu Zhou was arrested on September 11, 2007. Fengtai Domestic Security Division agents in Beijing once again ransacked Ms. Yang's home, but in her absence. Luckily, Ms. Yang had left earlier. But the arrest of Mr. Cao's friend saddened her. She also had to worry about avoiding the National Security Bureau agents following and harassing her.
Ms. Yang saw her husband at the Tianshui Prison at the end of 2007. He described his ordeals to her during the brief visit, making her more grieved.
Friend Died as a Result of Persecution
Ms. Yang heard the news about Yu Zhou and Xu Na's arrest in February 2008. Yu Zhou died as a result of persecution in March. Ms. Yang cried for her friend. The grief and pressure made her almost have a mental collapse, and soon after she became physically weak. In July 2008 she was found to have lumps on her neck and underarms, which led to a diagnosis of lymphoma at the beginning of August 2008 at the Xijin Hospital in Xi'an City, Shannxi Province. Ms. Yang lives in pain. She cannot lie down normally, neither can she each much.
Ms. Yang Xiaojing's elderly parents are worried about their daughter. Street Administration Office Head Li Heping often calls them to harass and monitor them. Agents come to their home to harass them on sensitive days. The 72-year-old father had to stay in Xi'an City, and take care of his sick daughter.
We hope kind-hearted persons in the free world might intervene for this family's plight.