Practitioners Introduce Falun Gong in Port Dickson, Malaysia on the Eve of Malaysian Independence Day (Photos)
September 04, 2009
|
By a practitioner in Malaysia
(Clearwisdom.net) Just before the Malaysian Independence Day, on August 30, 2009, Falun Gong practitioners in Malaysia traveled to Port Dickson, a well-known tourist destination, and held a series activities to introduce Falun Gong to the local people and visitors.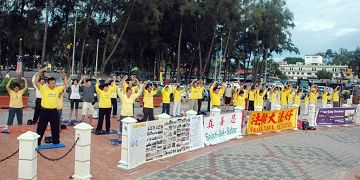 Falun Gong practitioners do the exercises near the seaside in Port Dickson before the Malaysian Independence Day
Falun Gong practitioners doing exercises
People learn about Falun Gong
The Divine Land Marching Band performs near the seaside at Port Dickson
The Malaysia Divine Land Marching Band also took part in the event, and gave a performance by the seaside. They played the Malaysia National Anthem, "Falun Dafa Is Good," "Drums and Trumpets Shake the Ten Directions," "Delight," and "Delivering Treasure." The person from the City Council who approved the event said after listening to the band, "Your performance is truly great. I hope you come again to play in the future."
In the evening, the band went to the Ocean Shopping Mall to play under invitation. A singing competition was taking place when the band arrived. The host declared, "Let's have a pause from our singing competition. Now we welcome Falun Dafa's band to perform. Let's give them a warm round of applause."
The band's performance drew many people, who stopped and listened, and asked for information about Falun Gong. All the informational materials about Falun Gong were distributed. The manager of the mall expressed appreciation for the band's performance.
The next afternoon, before returning to Kuala Lumpur, the band played at the seaside again. As they marched along the beach, many tourists paused to listen.
Over the course of the two-day event, all of the Falun Gong informational materials in Chinese, English and Malaysian were distributed.