Malaysia: Truthfulness-Compassion-Forbearance Art Exhibition Held in Pulau Ketam Island (Photos)
September 25, 2009
|
By a practitioner from Malaysia
(Clearwisdom.net) On September 20, the Truthfulness-Compassion-Forbearance Art Exhibition was held in Pulau Ketam Island, Malaysia. It was the second time that the exhibition has come to Malaysia.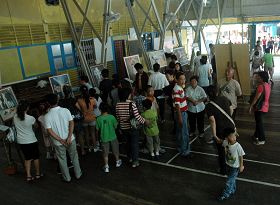 The exhibition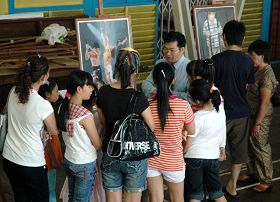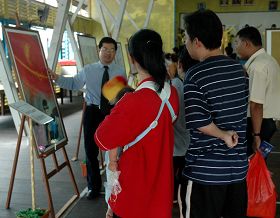 Many local citizens and tourists came to the exhibition, including tourists from Hong Kong, Taiwan, the Philippines, Indonesia and Singapore.
There are 20 paintings in the exhibition, which depict aspects of the Falun Gong spiritual practice and the Chinese government's brutal persecution of practitioners.
Many people learned about the persecution from the exhibition.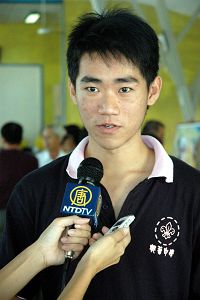 Mr. Bai expressed sympathy for those who were tortured to death during the persecution.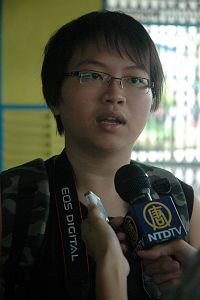 Mr. Zhang Wenqiang
Mr. Zhang Wenqiang is an art student from Kuala Lumpur. Sharing his thoughts about the paintings, he said, "They are great, very eye-opening. I can tell the artists created the artwork with their hearts. They expressed their thoughts very well so that everybody could understand their message." Mr. Zhang said that he would pray for the practitioners who are being persecuted in China.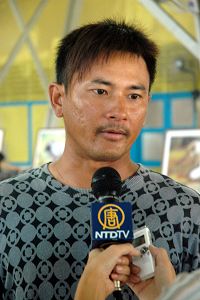 Mr. Xie Ruiyuan
Mr. Xie Ruiyuan is a local artist. He said, "These paintings are great. They all have stories behind them. What impressed me the most are the ones which expose the tortures of Falun Gong practitioners. I can feel their pain."
The exhibition ended at 4:00 p.m. Many people learned about Falun Gong and the persecution through the art exhibition. They condemned the CCP's persecution and declared that it must not be allowed to continue.