(Clearwisdom.net) On September 19, the Service Center for Quitting the Party in Melbourne held a rally in downtown to support 60 million Chinese withdrawals from the Chinese Communist Party (CCP).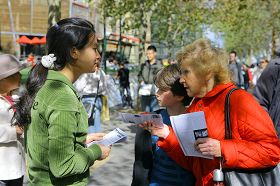 Telling people the facts about Falun Gong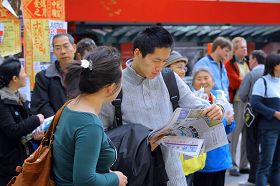 Clearing up misconceptions about Falun Gong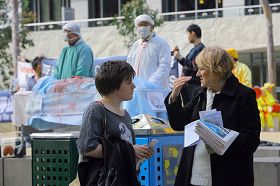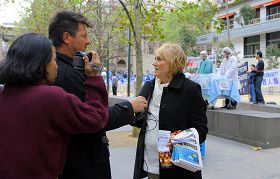 A reporter from Channel 31 TV interviewing a practitioner.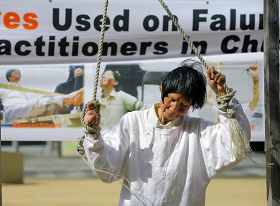 Torture re-enactment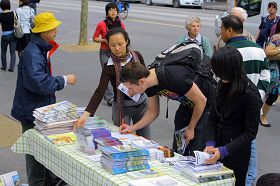 Signing to support Falun Gong
The rally started at 1:30 in the afternoon. Mr. Sun, a representative from the service center, briefly reviewed the terrible history of the CCP. Ms. Lan Tian from the Epoch Times said in her speech, "Some people hope that the CCP can solve the country's problems. But the CCP itself is the problem. Now many people have changed their minds--they've started to think about how to solve the problem of the CCP. One of the best solutions is to quit the Party."
Mr. Hu, who came to Australia from China two months ago, shared his experiences of cultivating Falun Gong and being arrested five times in China. He said that the CCP is the source of the disasters in China. He called upon the Australian government and its people to recognize the evil nature of the CCP and help the Chinese victims.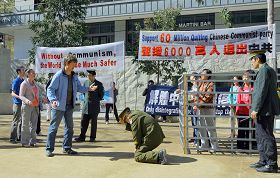 Practitioners in a performance
The Divine Land Marching Band performed at the rally. Practitioners performed a play about the persecution and the resistance against it.
The rally ended at 4:00 p.m.