(Clearwisdom.net) September 5 and 6 were the official Milan Sport Days. On the afternoon of September 5, from Duomo Square to Sforzesco Castle, there was a sea of "Milan Sports" banners. Local Falun Gong practitioners set up an information booth, which attracted many tourists because of its exceptional peace and serenity.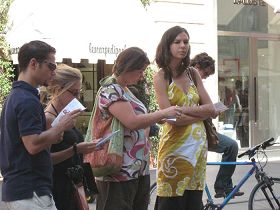 Pedestrians learn about the persecution at the Falun Gong information booth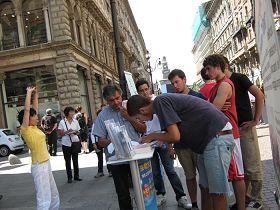 Many people sign a petition
The practitioners lined up in one row to demonstrate the Falun Gong exercises. A tall young man watched the sitting meditation for a while, and then asked: "How can they sit so well?" He told a practitioner that he also meditated and he always needed a small pillow in order to sit straight. "These practitioners were not using any cushion and yet they sat very straight. Moreover, they were all sitting in lotus position, with double-crossed legs."
The young man found it was incredible and said that Falun Gong must be an extraordinary practice. When he learned that the practitioners would hold a free-teaching session on Sunday, he was very excited and said: "I will definitely come!"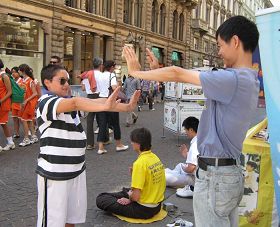 A young boy learns the first exercise
A little boy ran over and asked a practitioner: "How can I learn and how much do you charge?" The practitioner smiled and said: "I can teach you and it is free." The boy was delighted and learned the first exercise.
At the Falun Gong booth, to let people know about the ongoing persecution, posters which exposed torture methods used in China against Chinese practitioners were also displayed. Many pedestrians looked at the posters, some studied the informational fliers and talked with practitioners about the persecution and the practice.
A middle-aged man asked: "What is Falun Gong and why does the Chinese Communist Party want to persecute it?"
A practitioner replied: "Falun Gong is a traditional Chinese cultivation method that benefits both the mind and body. The practice is based on the principles of Truthfulness-Compassion-Forbearance which are the opposite of the Communist Party's "dishonesty-struggle-violence" ideology. The party started to persecute Falun Gong in 1999 and the persecution has lasted over 10 years. It has been confirmed that over 3000 practitioners have been persecuted to death. In addition, an international investigation has concluded that the Party has been systematically harvesting organs from living practitioners."

After listening to the practitioners' introduction, the man solemnly pressed his hands in front of his chest sand said: Auguri [God bless]!
After viewing all the posters quietly, a young couple signed their names on a petition to express their support for Falun Gong.
After listening to a practitioner explain the facts, a group of young Hispanic men lined up to sign the petition. They told the practitioner: "The persecution must be stopped!"