(Clearwisdom.net) Falun Gong practitioners working at the Daqing City Oil Field Company in Heilongjiang Province were and still are subject to severe persecution by the company's personnel. The number of persecution-caused deaths of practitioners is the highest of any workplace in the entire nation. Civic information sources have confirmed the deaths of 25 of practitioners at the Daqing City Oil Field Company as of June 16, 2009. It represents 41 percent of the total deaths (61 practitioners) in Daqing City and 6 percent of the total deaths (417 practitioners) in Heilongjiang Province. These practitioners suffered unimaginable tortures before they died. Some even had their organs harvested.
Based on current statistics, the Daqing City Oil Field Company employees who died as a result of gross abuse are:
1. Mr. Wang Bin, 47 years old, a computer engineer at Daqing City Oil Field Exploration and Development Institute, won the Second Prize for National Science and Technology.
Because he refused to give up his belief in Truthfulness-Compassion-Forbearance at the Daqing Forced Labor Camp, he was brutally tortured on September 27, 2000. He sustained a ruptured carotid artery, ruptured blood vessels, and fractures. His tonsils and lymph nodes were ruptured as well. The backs of his hands showed infected cigarette burns. Cigarette butts were inserted into his nose and burned him. He was completely bruised. After he was beaten to death, his organs were removed.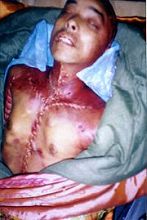 Wang Bin, tortured to death
2. Mr. He Huajiang, 42 years old, worked at the Sixth Oil Mining Factory at the Daqing Oil Field.
Qingxin Police Station officials from the Ranghulu District in Daqing City captured him at his workplace on September 16, 2002. His house was ransacked. He was sent to the Daqing City Forced Labor Camp at 10:00 a.m. on December 23, 2002, following a three-month detention. He died that same night around midnight.
Mr. He was being held in a solitary cell in the Second Division on the first floor. Because he refused to write the so-called "repentance statement," at 9:00 p.m. a guard incited inmates Wang Qinglin, Jiang Fa, and Zhao Yanjun to torture him. They forced Mr. He to the washroom and sealed his mouth so he could not shout when he was tortured. They then tied him up to a metal chair and beat him and otherwise tortured him so that he could not move. They not only poured icy water on him (they called it "having a cold shower") but also opened the window to let the cold wind blow on him. They even took him outside to stand in the cold winter weather to freeze him. People on the second floor could clearly hear the cries from the torture on the first floor. When inmates Zhao Lizhi, Lu Huashan, and practitioner Liu Fubin went to the washroom on the second floor, they heard He Huajiang groaning in pain.
Frozen for too long, plus the brutal tortures, He Hujiang died around midnight that night as a result of exposure and gross abuse. After he died, his friends and family did not even get to see his body, which was secretly cremated.
3. Mr. Liu Bingsen, 39 years old, was employed at the fire station (the sixth team of the city fire station) at the Daqing Oil Field.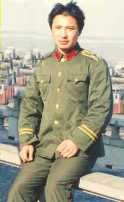 Liu Bingsen
While being detained at a forced labor camp, Liu Bingsen was locked in a solitary cell at 1:00 p.m. on October 20, 2003, and was forced to sit on a metal chair, also called the "tiger bench." Deputy division head Zhang Mingzhu is the individual personally responsible for Mr. Liu's death.
Liu Bingsen was tied on the metal chair so that he could not move a bit. There was a hole in the middle of the chair. His abusers left him no choice but to relieve himself onto the chair. He was tied on the metal chair and tortured until he died. His legs were swollen when he died. On his upper right hip were two blisters, one about one square cm (about 0.16 square inch) and the other 2 cm. There was an obvious mark on the sole of his foot that looked like it came from electric shocking.
Guard Zhang Mingzhu boasted that even if they killed him, "We don't have to pay it back." Camp officials tried hard to cover up the facts and prevent the information from leaking out. When people asked, all replied in unison and lied, saying Liu Bingsen died of a heart attack.
4. Ms. Yang Yuhua, 46 years old, was a teacher in the Sixth Middle School at the Daqing Oil Field.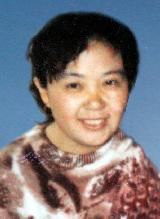 Police captured Ms. Yang at her home on April 14, 2005, and held her at the Daqing Detention Center. She died on May 12, less than a month from the time of her capture.
She went on persecution protest hunger strike. The guards forced her to sit on a metal chair and force-fed her. Beatings and verbal abuse were routine.
Prison doctor Qi Hong used a feeding tube to stab into her nose several times to torture her while force-feeding her and slapped her face. Ms. Yang was in such pain that she bit the rubber feeding tube off seven times. She broke all feeding tubes that were available for force-feeding in the detention center. The center ran out of usable tubes, making the center head consider using a metal tube to feed her, torturing her even more.
Ms. Yang spent day and night on a metal chair while being force-fed. They did not let her get up. During the last feeding she was extremely weak and could not struggle anymore. Even then, the guards still urged four inmates to hold her down and force-fed her for an entire morning. Yang Yuhua died as a result of force-feeding.
5. Ms. Liu Sheng, 53 years old, used to live in the Fifth Factory dorm and was retired from the Water Supply Company of the Fifth Factory at the oil field.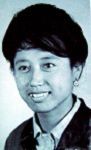 A healthy Liu Sheng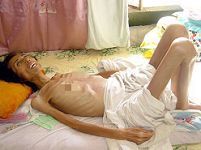 Liu Sheng following gross abuse and mistreatment
Ms. Liu was arrested, detained, and tortured many times. Her family was destroyed as well. On September 11, 2007, she died as a result of gross abuse and torture, weighing a mere 30 kg when she died.
She was subjected to one and a half years of forced labor in July 2006. After only one month in the labor camp, she vomited blood and was unable to eat as a result of torture. Those in charge were afraid of her dying in the labor camp and released her.
On July 5, 2007, she went to visit another practitioner named Wang Yanxiang at her rental apartment. The police arrested her there. They took away her personal belongings from home, such as a printer, paper, an MP3 player, an E-book, and 500 yuan in cash. That same night the guards poured water on her. Li Jinrui and Wei Tao beat her. She vomited blood and lost consciousness. When she came to, the guards continued to beat her brutally. She was covered with bruises.
The next day she was taken to Harbin Forced Labor Camp. On the way there, guard Li Jinrui slapped her so hard she lost hearing in her left ear. At the labor camp, guard Wei Tao refused to let her use the bathroom, resulting in her suffering from a stomachache ever after. Camp personnel saw that she had been tortured to the brink of death and refused to accept her. The guards attempted to get 20,000 yuan from the family, but were unsuccessful and had to release her three days later. However, Ms. Liu Sheng had become disabled as a result of torture and could not eat and kept vomiting. Her weight suddenly declined from 55 kg to 30 kg. She died at 4:00 p.m. on September 11, 2007.
Other practitioners employed at the oil field that have died as a result of persecution:
6. Mr. Wang Kemin, 38 years old, was a teacher at the 65th Middle School of the oil field's Educational Training Center.
7. A 65-year-old family member of an administration station employee of the oil field's First Factory
8. Mr. Niu Huaiyi was an employee of the Sixth Factory
9. Ms. Liu Tongling, 53, was an employee of the Sanan Company
10. Mr. Hua Haiyu, 59, was employed at Yinlang Warehouse of Field Supplies and Equipment Corporation
11. Ms. Gao Shuqin, 51, a teacher at the Twelfth Middle School at the Oil Field Educational Training Center, a city level Outstanding Teacher
12. Mr. Wang Chuanping, 53, an employee from the Operating Group of the Third Factory
13. Ms. Jin Shulian, 42 years old, an employee of the 104 Team, First Plant of the Eighth Factory
14. Ms. Yang Lifan, 47, a warehouse worker of the Daqing Construction Materials Company
15. Ms. Chen Qiuju, employed in the Sixth Factory
16. Ms. Cui Shuping, A 54-year-old worker at the Well Operating Company
17. Liu Shu, a staff member of the Planning Section of the First Factory
18. Ms. Tian Xierong, 50, an employee of Lishen Pump Industrial Company
19. Ms. Yang Shuqin, 67, family member of a retired worker at the Fourth Factory
20. Ms. Wang Chengyuan, 66 years old, used to live in a dormitory at the Third Factory
21. Mr. Yang Quanyong, employed in the Longfeng Power Plant of the oil field's Power Corporation
22. Mr. Zuo Guoqing, a supervisor at the Refinery Company
23. Mr. Zhang Hongquan, an engineer at the Computing Center at the Well Inspection Company of Daqing Petroleum Administration Bureau
24. Mr. Ni Wenkui, an employee at the Sixth Factory
25. Ms. Ma Bing, 38, an engineer at the Fine Chemical Plant
Many employees who practice Falun Gong at the Daqing City Oil Field have been harassed, had their wages and bonuses deducted, were expelled from the company, brainwashed, and experienced interference from the authorities even in their children's employment. Their family and friends have been affected. For example, retirement pay and benefits of retired employee Li Guangying from the Materials Corporation have been suspended. He now relies on family and relatives. Accountant Tang Zengye from the Third Factory was forced to buy out his years of service and retire early. He does not even have a basic living allowance. All of the early retirement benefits such as the minimum wage, holiday subsidies, and housing subsidies have all been suspended. Some teachers were forced to clean bathrooms. Top talented employees lost their jobs. Some were sent to forced labor camps or detention centers or were sentenced to prison terms. Practitioner Dai Zhizhong from the Lishen Industrial Pump Company was sentenced to 12 years in prison.
Daqing City Oil Field personnel spent huge sums of money to establish the Hongweixing Brainwashing Center. There are at all levels in the organization that are specifically responsible for persecuting Falun Gong. Within one company, 25 practitioner employees died as a result of gross abuse under the persecution. Thousands of practitioners nationwide are enduring hardships.
Good is rewarded with good, and evil provokes retribution. Following are a few examples from the Daqing Oil Field Company:
1. Zhou Yi, principal of the 27th Middle School of the Fifth Factory, 54 years old, participated in the persecution of Falun Gong. He was diagnosed with liver cancer in June 2002 and died on August 4, 2002, in the Oil Field General Hospital. After he died, his wife said he was exhausted from persecuting Falun Gong.
2. Yuan Bingjun, 610 Office deputy head at the Lishen Power Industrial Company drove to Yinlang in Daqing the afternoon of October 17, 2002. Just as he and his passenger were crossing a railroad track, the car died. They tried to push the car off the track but were unable to move it. They returned to the car just as a train approached. The train hit the car and turned it 180 degrees. The car was only lightly scratched, but Yuan Bingjun got entangled by the car and thrown up onto the train. He died instantly.
Right before this accident Yuan Bingjun had gone to a practitioner's home and forced him to write a , otherwise, the practitioner would not get his 5,000-yuan "deposit" back, his salary would be stopped, and chances of finding other employment were nil, cutting off any source of income. Yuan Bingjun drafted slanderous reports on many occasion to higher-level management, to be read within the organization. He established brainwashing sessions to try to force practitioners to write the guarantee statement and report on other practitioners. He withheld 5,000 yuan from each practitioner as a "deposit." He also incited practitioners' families to beat practitioners and scrawled on a picture of the founder of Falun Gong. He refused to listen to practitioners' advice.
3. Wang Junsheng, 49 years old, Party Committee Secretary of the Sixth Station of the Well Shaft Company, fined a practitioner and reduced his salary. Wang Junsheng and two others drove to Hulan on November 6, 2002, to look for the practitioner and planned to send him to a brainwashing center organized by personnel at the Daqing Petroleum Administration Bureau. The practitioner refused to go. On their way back to Daqing, Wang Junsheng was sleeping in the back seat. In trying to avoid a rear-end collision with another car, their car flipped over into a roadside ditch. Wang Junsheng sustained a hole in his head. He climbed out of the car and contacted his company. By the time help arrived, he had already died. The other two people in the car were only slightly injured.
4. Zhao Xinwu is deputy Party Committee Secretary of the Kunlun Group. He was transferred to the Well Inspection Company of Daqing Petroleum Administration Bureau in 2002 as deputy Party Secretary. Later on he was transferred to the Kulun Group as deputy Party Committee Secretary. Wherever he went, practitioners were persecuted. Especially while at the Well Inspection Company and the Kunlun Group, he used different means, including deceptive ones, to persecute and arrest practitioners, who clarified the truth to him several times. He refused to repent and also laughed at practitioners for their compassion. He was diagnosed with lung cancer in April 2005.
5. Huang Jinyi, Lishen Pump Industrial Company Party Committee Secretary, was hostile toward practitioner employees and segregated them. He also supplied funds to establish a brainwashing center. He was personally involved in commanding and inciting others to persecute practitioners. He slandered Falun Gong in the company's game room in April 2004, commenting he did not believe in karmic retribution. In May 2004, he was diagnosed with lung cancer and died in November.
Other examples:
The head of the 610 Office of the Water Supply Company died of an unknown illness; the Daqing Teachers' Institute Party secretary died of a car accident; Liu Jichen, deputy Party Secretary of Daqing Oil Field Research Institute who was responsible for persecuting Falun Gong, suffers from cirrhosis of the liver and stomach bleeding; Chen Chunshan, Party secretary of the Power Company, suddenly lost consciousness while he was hosting a brainwashing session for Falun Gong practitioners; Liang Hongwen, Party Secretary of Fourth Well Plant of the Eighth Factory, slandered Falun Gong through the Eighth Factory's cable network in March 2002. In April, while playing soccer, he ruptured a tendon in his heel; Li Zhenfu, Eighth Factory Party secretary forced practitioners to leave their jobs so he could hire non-practitioners. He participated in arresting and sentencing practitioners. Now he suffers from bone cancer. Among the officials from Daqing who underwent treatment in the Shanghai Dongfang Liver and Gall Hospital and died, seven of them participated in persecuting Falun Gong practitioners from the Daqing City Oil Field Company, and five out of the seven were Party Committee secretaries.