Taiwan: Ms. Shao Yuhua, Falun Gong Practitioner Illegally Detained in China, Returns Home (Photos)
August 10, 2009
|
By Minghui/Clearwisdom reporter Li Huirong
(Clearwisdom.net) On August 6, 2009, Shao Yuhua, a Taiwanese Falun Gong practitioner who was jailed by the Chinese Government for a week, returned home to Hsingchu, Taiwan. Ms. Shao stated at the airport, "Falun Gong practitioners should have freedom of belief." She called upon people to help rescue practitioners who are being persecuted in China.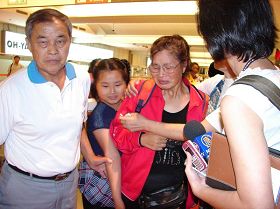 Shao Yuhua (in red jacket) returns home after a week's detention in China
Ms. Shao Yuhua married a Taiwanese and moved to Taiwan from China eleven years ago. In 2007, she started practicing Falun Gong. This past July, Ms. Shao went to visit her family in China with her ten year-old daughter. On July 31, she was arrested by Chinese police.
Several Taiwanese organizations and government officials were involved in rescuing Shao Yuhua. On August 6, she was released and returned home. At the airport, she and her husband, Cheng Shuda, expressed their appreciation to Falun Gong practitioners, the Taiwanese government and to the other organizations that helped secure her freedom.
Ms. Shao said, "I am free now, but thousands of practitioners in China are still being persecuted. Everyday people can't imagine how severe their situation is. I hope that international organizations and Taiwanese society will help them, as they have helped me."
Ms. Chu Wanchi, a well-known human rights lawyer, had a three-hour conversation with Ms. Shao after her release. She heard some of the details of what Ms. Shao experienced while detained in China. Ms. Chu related, "Shao Yuhua was arrested only because she practices Falun Gong. She was subjected to sleep deprivation. The police tried to force her to write a letter promising that she will no longer practice. She and her family were threatened."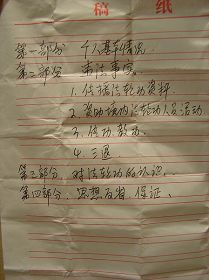 The police tried to force Ms. Shao to write a letter renouncing Falun Gong, and made an outline for her to follow
Mr. David Kilgour, former Canadian Member of Parliament, had written to Taiwanese officials, requesting their help to rescue Ms. Shao Yuhua. The Falun Dafa Information Center also asked several international organizations, including Amnesty International and Human Rights Watch, to help. Many Taiwanese organizations and government officials actively helped to rescue Mr. Shao.
Ms. Shao Yuhua and her husband live in Hsinchu. Chang Bichin, spokesman for the Hsingchu Council, said that her mother-in-law is also a Falun Gong practitioner, and she knows that Falun Gong is beneficial to people. Chiu Jingchun, the councilman for Hsinchu, called upon the Chinese government to restore freedom of belief and release all illegally detained Falun Gong practitioners.
On August 5, the Taipei Times covered Shao Yuhua's case.
Ms. Shao thanked everyone for their help in gaining her freedom and requested more attention be directed to those who are still being persecuted in China.