San Francisco: A Candlelight Vigil Against the Persecution (Photos)
July 20, 2009
|
By Minghui/Clearwisdom reporter Wang Ying
(Clearwisdom.net) On July 18, Falun Gong practitioners in San Francisco held a candlelight vigil in front of the Chinese Consulate, in memory of those practitioners who lost their lives during the 10-year-long persecution in China. The practitioners also called for an end to the persecution.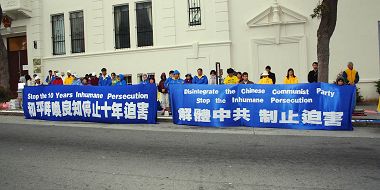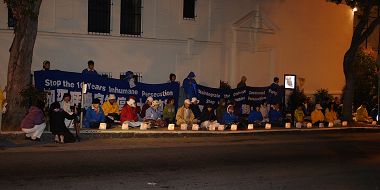 Candlelight vigil at the Chinese Consulate in San Francisco
The candlelight vigil started at 8:00 p.m. About 100 Falun Gong practitioners held banners printed with "Falun Dafa is good," "Call for Justice," and "Stop the persecution," calling upon people to pay attention to the brutal persecution taking place in China.
Over the past ten years, seventy-three-year-old Mr. Peng has often come to the Chinese Consulate to peacefully protest against the persecution. He said, "I hope people can recognize the evil nature of the Chinese Communist Party. Once they do, they will quit the party. Now 50 million Chinese have quit the party. The trend will dissolve the party and stop the persecution."
Mr. Peng said that in the last ten years, more and more people have started practicing Falun Gong. Because of the persecution, the Chinese government made Falun Gong known throughout the whole world. Many people, who didn't know about Falun Gong, learned the truth during the persecution, and started practicing themselves.
Mr. Peng said, "Since Falun Gong is so beneficial, it has spread to 114 countries and areas throughout the world."
Ms. Wang, a manager working in Silicon Valley, has been practicing Falun Gong for 16 years. She said that she and her whole family have benefited from Falun Gong a lot, both physically and mentally. She explained, "What we have been requesting for these ten years is for the Chinese government to stop the persecution. We hope more people will join us to end it."
Jenny, a local citizen, said that she often sees practitioners protesting against the persecution in front of the Chinese Consulate. She admires their spirit. "They are kind and polite. I respect them. I support their activities against the persecution."
Background
Falun Gong, also known as Falun Dafa, is a traditional Chinese spiritual discipline for mind and body. The practice involves slow, gentle movements and meditation. It is easy to learn, enjoyable to practice, and free of charge. Its principles are based on Truthfulness-Compassion-Forbearance. The practice began in China in 1992 and quickly spread by word of mouth throughout China and then beyond. Today, Falun Gong is practiced by over 100 million people in over 110 countries. The main works of Falun Gong are available in over 30 languages.
On July 20, 1999, the Chinese Communist Party (CCP) launched a brutal persecution of Falun Gong. Since the start of the persecution, Falun Gong practitioners throughout the world have been constantly speaking out about the truth of Falun Gong and exposing the CCP's crimes in a tireless effort to end the persecution.