(Clearwisdom.net) On June 9, 2009, Ms. Peng Xiaomei, a Falun Gong practitioner retired from China Construction Bank in Hunan Province, was illegally arrested by the Liuzhengjie Public Security Bureau in Changsha City. Without any legal representation or judicial protocol, Ms. Peng was taken to the Changsha City Rule of Law Education Training Center (a brainwashing center) in Laodaohe Town, Kaifu District, Changsha City.
Ms. Peng has been a practitioner for many years, and for "clarifying the facts" of the persecution of Falun Gong she has been persecuted by the Chinese Communist regime.
Over the last decade Ms. Peng has endured much harassment and numerous arrests at the hands of the local authorities.
Ms. Peng is 56 years old and has worked in the medical industry for many years. Since she was 18, she suffered from urinary and back problems. In her twenties, she was diagnosed with a herniated disc. Very often she could not work due to the pain. Later, she was diagnosed with chronic kidney infection.
In 1996, Falun Dafa arrived in Changsha. Ms. Peng attended the Nine Day Lectures. After the first class, without even learning the exercises, Ms. Peng felt something removed from her body. She was amazed and decided to practice diligently. Soon, she became a cultivator in Falun Dafa.
During that time, Ms. Peng went to Lieshi Park in Changsha City every morning to join in the group exercises. Through family and friends, the number of practitioners grew and soon reached over 100 people. Every morning after the exercises, Ms. Peng felt very comfortable. After a short time, all her health problems disappeared. She finally experienced how it was to live without illness. Moreover, by living according to the principles of Truthfulness-Compassion-Forbearance, her hot temper improved, and she learned to be considerate of others. At home, her relationship with her mother-in-law and her siblings and their spouses improved. Everyone who knew her could see that she had become a totally different person.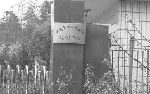 Front door of the Changsha City "Rule of Law Education Training Center", in actuality, a brainwashing center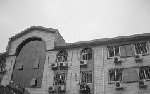 Detention building
The Laodaohe brainwashing center was set up by the Changsha City's 610 Office in November 2002. Since then, many kind Falun Gong practitioners who've been forced out of their homes and farmers who've been deprived of their land have been imprisoned there..
After Ms. Peng's arrest, the 610 Office ordered her former employer, China Construction Bank, to send two people to monitor her. When China Construction Bank refused, Ms. Peng's husband was apprehended and forced to be her monitor. As a result, Ms. Peng's elderly father and young daughter now have no one to support them.
In the past seven years, dozens of practitioners in Changshi City have been "illegally detained" at the Laodaohe brainwashing center. Many of their families or places of employment are forced to pay huge sums of money to the center. When the center first opened, every practitioner had to pay 7,000 yuan in "brainwashing fees" per month. Rent and food also cost 120 yuan per day, and a protection fee ranges between 50 to 60 yuan per day.
The center states publicly, "Once you're here, there are only three roads: one is to 'transform' (give up one's belief and conscience and defame Falun Gong), two is to be sent to a mental institution, and three is to be sentenced to a labor camp." Practitioner Tang Min from Changsha was sent to Hunan Provincial Mental Hospital, now renamed Hunan Provincial Second People's Hospital, and injected against her will with nerve-damaging drugs, which caused suffering both physically and psychologically. Zhang Junjie, Li Zhihong, and other practitioners from Changsha City were sent to Baimalong Women's Labor Camp or the newly opened Kaipu Labor Camp.
Other practitioners working in the China Construction Bank in Hunan Province have also been persecuted. Ms. Li Nan from the Operating Department was illegally sent to the Hunan Provincial Mental Hospital. Mr. Zhou Guanghua from the Planning Department was also sentenced to a forced labor camp.
Phone numbers of departments involved:

Changsha City 610 Office:
Chief Wu Zhibin: 86-731-8667548
Deputy Chief Wu Kaiming (also Chief of the Changsha City Rule of Law Education Training Center): 86-731-8667549

Changsha City Rule of Law Education Training Center:
Chief Wu Kaiming: 86-13308408731(Cell)
Deputy Chief Shi Jin: 86-13308476059(Cell)

Liuzhengjie Public Security Bureau (responsible for Ms. Peng's arrest), Furong District, Changsha City:
Bureau Chief: Wu Youming
Deputy Chief Shi Ming Yu Jiegang Huang Songgao
Re-educator Zhang Huimin: 86-13787311133(Cell)