(Clearwisdom.net) On June 6, 2009, 6000 Falun Gong practitioners joined a grand march themed "Call for Conscience and Stop the Persecution" in New York City. The march proceeded down Sixth Avenue in Manhattan and drew attention from passersby. A lot of people in this march had a wonderful story about how practicing Falun Gong changed their health and minds.
Falun Gong Gives Me Life and Health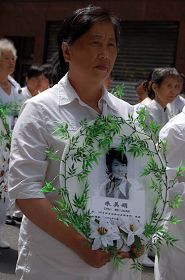 Ji Hong used to have terminal pancreatic cancer. She completely recovered after practicing Falun Dafa.
Ji Hong lives in Canada. Just by looking at her, one wouldn't believe the doctors gave up on her 14 years ago. According to Ji, she was found to have terminal pancreatic cancer in 1995. The doctors told her she had no chance of surviving. Through a friend, she started practicing Falun Gong in China in 1996. A year later, she went to a hospital to have a checkup and everything was fine. Ji said, "I wouldn't be here if I didn't practice Falun Gong. Many people in China do not know the greatness of Falun Gong because of the persecution; it's my responsibility to tell them that. I come to New York every year to help."
Lian Chen lives in Japan. Eleven years ago, she was diagnosed with severe heart disease. Three weeks after she started practicing Falun Gong, her hereditary heart condition was gone. Her world view was completely changed and her life became more meaningful. She comes to New York every year to call for an end to the persecution of Falun Gong and the release of all practitioners unconditionally.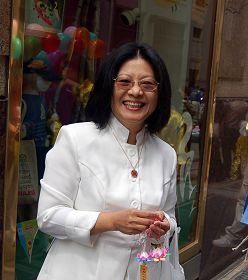 Zhuling came from the State of Utah. Her illnesses disappeared after she practiced Falun Gong.
Zhuling came from the state of Utah. In 1996, she was about to have surgery and she discovered the book Zhuan Falun. She was awakened and felt the book was telling her something. She began to study the teachings and exercise at home every day. A month later, she felt all her illnesses went away while she was asleep. After she woke up, she knew how it felt like to be completely healthy for the first time.
She didn't understand why the CCP started to persecute Falun Gong on July 20, 1999. "Why can't we practice such a great teaching? Why aren't we allowed to have good health? To protest against the persecution and let people know what Falun Dafa really is, I come to New York every year to join this activity."
Zhuling said that she gradually found different channels to tell people about Falun Dafa and expose the evil persecution in China. "I hope everyone who learns the facts about the persecution can speak up and help to stop it."
The Persecution Allowed More to Hear About Falun Gong
Wang Xiuyuan is from Taiwan. She had been looking for ways to practice since childhood. She heard about Falun Gong from the CCP's propaganda defaming Falun Gong. She was curious about Falun Gong the first time she heard about it and went online to find more information.
When the CCP mobilized all media to defame Falun Gong, knowing it was a totalitarian regime, Wang decided to find out what Falun Gong was. "Reading all the negative information, I learned that ten thousand Falun Gong practitioners went to Beijing to protest on April 25, 1999, and did not leave a piece of garbage behind. I felt Falun Gong was special. Later my supervisor introduced Falun Gong to me. That was when I started the practice."
"We come from around the world, from all walks of life. We all feel that we must tell people what is happening in the persecution. It's our honor to bring the beauty of Falun Gong to more people," said Wang.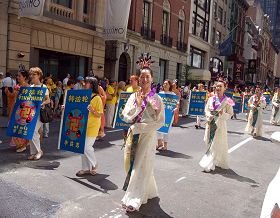 Lin Yuxia dressed as a celestial maiden. In 1999, she was curious as to why the CCP mobilized so much force to defame a qigong practice. She decided to find out more about it and has been practicing ever since.
Lin Yuxia came from Taipei, Taiwan. She started practicing Falun Gong in 1999, as soon and the CCP started to persecute Falun Gong. "I was curious as to why the CCP mobilized so much force and defamed Falun Gong with such intensity. I found the book Zhuan Falun and started reading it. It was all about how to be a good person and to be better each day. I've been a practitioner ever since."
Lin said that her personality had changed a lot since her practice. She has become considerate of others and is a lot more patient than before. She put a lot of informational materials in her shop, hoping more people can learn the facts of the persecution.
Hu Long comes from Long Island. Hu had been looking for something since he was young and read a lot of ancient books. In 2002, he went to the U.S. and found Falun Gong founder Mr. Li Hongzhi's articles on a library's website. He was deeply touched and started the practice. Several months later he went back to China to study for his Ph.D. degree. The school started to pressure him to give up the practice. His family and friends wanted to protect him and sent him overseas to study. After he got to the US, the Chinese Embassy canceled his scholarship because of his practice. Hu said, "I have finished my study. I was supposed to go home and serve my country but I can't now because of the persecution."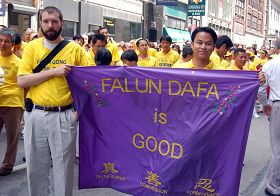 Wattana (right) is a Laotian American who lives in Washington DC. "I hope everyone can learn about the persecution and help stop it," said Wattana.
Wattana is a Laotian American who lives in Washington DC. He learned about Falun Dafa from his colleague in the Postal Service. One day he joked with his colleague, "You are from China but do you know martial arts and Taichi?" His colleague told his, "I know Falun Gong. You can read about it in a book. Why don't you try to see what it is?" Wattana really liked the teachings in the book. "The feeling I had when I did the exercises was terrific. Gradually I knew that I must improve my character and pay attention to virtue. I think I have improved as a person."