(Clearwisdom.net) On June 6, 2009, about six thousand Falun Gong practitioners held a parade calling for the end of the persecution in midtown Manhattan. The procession was composed of four sections: Wide Spread of Falun Dafa, Tragedy in China, Disintegrate the CCP and End the Persecution, and Falun Dafa Is Great.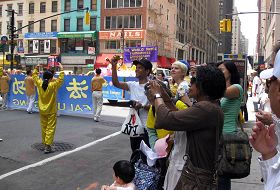 People stop to watch the parade and take pictures
A middle-aged woman was visiting New York from China. She followed the parade with an informational flyer in hand. She told the reporter that she knew Falun Gong. "My neighbors practice Falun Gong. They are very kind people, and they believe in Truthfulness, Compassion and Tolerance. It is great! But the persecution in China is too cruel. It shouldn't have happened."
Many local residents also watched the parade and took pictures. A woman asked what Falun Gong was excitedly. A Falun Gong practitioner explained to her and gave her a flyer.
A tourist from Denmark said, "I don't know Falun Gong. But I feel the music and songs are beautiful and full of ideas."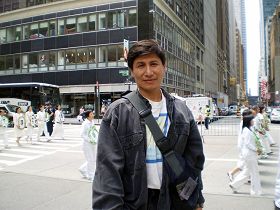 Eduardo from Peru said that he would keep up with Falun Gong news
Eduardo came to New York from Peru for a conference, and he happened to catch the parade. He was sad to see the pictures of the persecution victims. "I have seen such activities before. I have read a flyer. I thought that such things wouldn't happen, but I didn't know it was in China. I will keep up with it and find out more from the Internet." Eduardo didn't know about the live organ-harvesting. He said, "It is very sad! I hope we will stop it! Everyone should be free!"
Ms. Chere Brown told the reporter, "I learned about Falun Gong from its peaceful appeals and brochures. I understand Falun Gong is a teaching and practice. The persecution is crazy! They throw people into prison just because of their faith. It is terrible that the Chinese government persecutes people of faith. Their human rights should be protected. Ten years is too long! A major change should happen."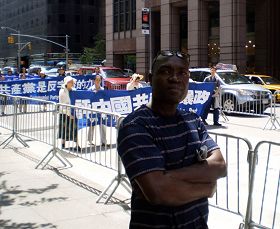 Robert
Robert watched the parade carefully. He had heard about the persecution of Falun Gong before. He said that the activity was great. It told people what was happening in China. There was a lot of corruption in China, and the human rights situation was still bad. Innocent people were killed, and it should change. Chinese people should have their freedom, and it is time to abandon Communism. He hoped to hear great news about China one day, the news about casting away the Communist Party.
Charles, who works at HBO, watched the parade and said that Falun Gong practitioners were great people who worked hard on their core values. He had read about the persecution in the newspaper before, and said that the Chinese government was wrong for doing this. He also pointed out the CCP's habit of covering up the truth, such as the Tiananmen Square Massacre.
Kai Hamakawa works at American Headwear. He said that the persecution was disgusting. He couldn't understand why they would persecute Falun Gong and why it has lasted so long. He said, "It is time to end the persecution."