(Clearwisdom.net) June 1 is Children's Day, a day when many little children go to parks with their parents or eat delicious food. However, Tianxing hasn't been able to see his mother in the past five years because she "left and went to a very far away place" on this special day in 2004. Tianxing misses her very much. Tianxing's father hasn't come to see him for a long time. Tianxing's maternal grandfather passed away not long after his daughter's death. In May this year, Tianxing's guardian, his aunt Feng Xiaomei, was sent to a forced labor camp. Tianxing, his maternal grandmother and his cousin have no source of income. Children's Day turns out to be a disaster day for little Tianxing who can only cry on this day.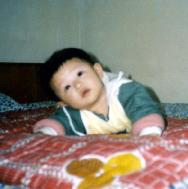 Lovely Tianxing
Wang Tianxing was born on July 31, 2002. Even before he was born, he had to wander around with his parents who chose to leave home to avoid further persecution. On June 1, 2004, when he was only 22 months old, his mother died as a result of persecution. As he grew older and picked up more words he would say something like "Mommy is crying," "Mommy goes to the hospital" and "Daddy is at work." Sometimes when he woke up from sleep he cried for Mommy and Daddy. When he saw other kids call "mommy," he also called "mommy." If he fell down, he shouted "mommy." too. Occasionally he could recognize Mommy's clothes and then hold on tight to them, not letting go. Everyone who saw this couldn't help shed tears.
The wanton actions of police who broke into homes to arrest people had greatly harmed Tianxing and left a deep scar on his young mind. Even a knock on the door would startle him and make him cry. Tianxing is now in first grade and is envious of his classmates who have both parents. Every day when he sees his friends run to their mommies and daddies during after school pickup time, his tears stream down his face. He is supposed to have a happy family, yet the Chinese Communist Party shattered his carefree childhood.
Information about Tianxing's family:
Current address: 304 Dongmen, Nanlou, Nongyoulou, Huaibei Rd., Shijiazhuang City, Hebei Province
Mother: Feng Xiaomin, died as a result of persecution on June 1, 2004, see http://www.clearwisdom.net/emh/articles/2004/6/27/49588.html
Father: Wang Xiaofeng has been in exile since June 2001
Aunt: Feng Xiaomei, sentenced to one and a half years of forced labor on May 16, 2009
Uncle: Wang Hongbin, died as a result of persecution on October 9, 2003, see http://www.clearwisdom.net/emh/articles/2006/7/27/76019.html
Cousin: Wang Boru, has been suspended from school for over one month, since his mother Feng Xiaomei's arrest
Grandfather died in early 2005, shortly after the deaths of Wang Hongbin and Feng Xiaomin
Grandmother: house wife