(Clearwisdom.net) Falun Dafa practitioner Ms. Liu Liyun of Huludao City, Liaoning Province was tortured to death at the Liaoning Women's Prison on July 23, 2002. When viewing the body, one could see that the head was swollen. The prison officials deceived her father into signing the death certificate and cremation authorization. They would not let her father see more than her head in a darkened room to conceal the torture.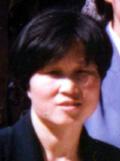 Dafa practitioner Ms. Liu Liyun was persecuted to death in the Dabei Prison
Some sources in the know acknowledged that the police locked Mrs. Liu Liyun into a solitary cell and ordered eight inmates to take turns torturing her. The prisoners took Ms. Liu to a corner of the cell, pushed her to the concrete floor, stretched her hands out horizontally, and pulled her legs apart. She was fixed in a "cross" position and could not move. Her body was very weak, and she was unable to support her head. When she closed her eyes or lowered her head, she was brutally beaten. She died after four days in the solitary cell.
Guard Wang Zhi of the 7th Brigade, 7th Prison section locked Ms. Liu into a solitary cell and chained her hands and legs with iron chains. She was fed a little corn bread daily, but sometimes she was given no food or drink. She became emaciated. She was brutally beaten with electric batons and suffered other forms of torture. Blood came out of her mouth, nose, and other places.
Ms. Liu Liyun, 44 years old, lived at the Yangjiazhangzi Economic Development Zone in Huludao City, Liaoning Province. In December 1999, Ms. Liu was held in a detention center in Fuyang City, Anhui Province. She was released after 45 days and returned home towards late January of 2000. At approximately 2:00 p.m. on June 23, 2000, police officers Yang Zhenyong, Feng Jun, Ma Guangchao, and Zhao from the Yangjiazhangzi Police Station broke into Ms. Liu's home, arrested her and took her to the police station. They took her to the Huludao Detention Center at 5:00 a.m. She was detained for a month and then taken to the Yangjiazhangzi Brainwashing Center for over 40 days. Ms. Liu went on a hunger strike to resist the persecution and was released. In December 2001, Ms. Liu was arrested at Tianjin by Huludao police, who took her to the Huludao Detention Center. Police confiscated the 5,000 yuan in cash that she had with her. At the same time, police from the Lianshan Branch Police Station ransacked her home and confiscated a copier, Falun Dafa books and other belongings.
On December 6, 2001, Ms. Liu was sentenced to a four-year prison term. She was persecuted at the 7th Brigade in the Liaoning Women's Prison. On July 24, 2002, four police officers, a director and three guards from the women's prison came to Yangjiazhangzi and told Ms. Liu's father, "Your daughter is very sick. We will take you to her." They took her father to a motel in Shenyang. On the second day, one of the guards told him, "Ms. Liu died on the 23rd due to high blood pressure and heart disease." Liu's father requested to see her remains. They said, "To see the remains, you must sign documentation and agree that she be cremated. Otherwise, you are not allowed to see the remains." Liu's father, who is illiterate, wanted to see her remains and they did not agree. Negotiations went on for three days. Four employees from the prison and two Yangjiazhangzi executives responsible for persecuting practitioners monitored the elderly man for three days, not leaving him alone for a moment. They demanded that he sign the cremation authorization. After three days, he said, "I do not want to see anything and I do not want to sign any paperwork. I want to go home. I do not care if you cremate her remains!" The officials asked, "Then do you want her ashes?" He answered, "I want her ashes." They said, "If you want her ashes, you have to sign your name on this form and fingerprint it." He is illiterate and only knows how to write his name. After he signed his name, they took him to see the remains. They took him into a darkened room. They did not allow him to turn on the light and let him see only her face. He could tell that Ms. Liu's head was swollen, but he was not allowed to see her body. After that, the prison cremated her body and put him in a car that took him home.
Police officers directly involved in the torture that resulted in Ms. Liu Liyun's death:
Wu Yan: 7th Prison Section Political Director. After Liu Liyun was persecuted to death, she was transferred to the 9th Prison section. The new political director is Zhang Yandan.
Wang Zhi: 7th Brigade police, 7th Prison Section.
Zhang Haiyan: manufacturing supervisor in the 7th Prison Section
Hu Xin: the manufacturing chief supervisor in the 7th Prison Section.
Those directly involved in persecuting Ms. Liu Liyun:
Zhang Ping: After Liu Liyun was persecuted to death, Zhang was transferred to the special control team.
Zhang Fuzhi
Cao Yufen
Zhang Xueqing
Former Liaoning Women's Prison warden Li Shen was transferred to Shenyang Zhaohua Prison before 2008