(Clearwisdom.net) My name is Rong Chen; I am a Falun Gong practitioner with a Chinese passport, living in Germany. A while ago, my passport was due to expire, so I attempted to renew it. However, many working days had passed and still the Embassy had not given me a new passport, without any excuse. Therefore I have been residing in Germany without any legal certification for one month.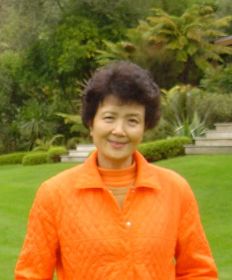 Falun Dafa practitioner Rong Chen
The whole saga:
My passport expired on April 18, 2009, so I handed all the documents needed for a new passport to the Frankfurt Chinese Embassy on Friday, March 6, 2009. According to the Chinese Embassy, it takes fifteen working days to issue a new passport. When I went to the Chinese Embassy on April 2, four weeks later, and paid the 55 Euro fee for renewing a passport, I was told that they hadn't yet cleared it. Afterwards, I went there every week to ask for my new passport. Two months have passed now, the Chinese Embassy has made the excuse of a delayed process so as to not issue me a passport.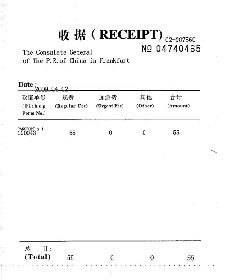 On April 2, 2009, Rong Chen paid a fifty-five euro fee for renewing a passport at the German Frankfurt Chinese Embassy. Above is the Receipt.
The following week, week five of the saga (April 9), I went to the Chinese Embassy and was told that the passport wasn't yet done. In reply I said, "My passport will expire on April 18, if you don't give me a passport, then please give me proof.'' The clerk who worked in the passport window said, "We didn't say that we would not give it to you; when it's done we will give it to you.'' I asked his name, he said, "It's not convenient to tell you.'' I said my friend had his passport renewed within one week. He said, "Normally three weeks, but some could take five weeks, or six weeks.'' I said, "It's already five weeks, can I get it next week?'' He said, "I can't guarantee it, it's not only me who is working on it.'' I said, "When the expiration date is passed, I don't have legal status to stay in Germany, please give me some proof saying that the passport is in the process of being renewed.'' He told me that the receipt of payment is proof enough.
On the sixth week (April 16), I went to fetch it again. Again he told me that it was not done. Again I asked him to give me proof saying that the passport is in the process of being re-issued. The man then said, "We can't give you proof. It doesn't matter even if the passport expired.'' I said, "Hopefully it is true that my passport hasn't finished being re-issued.'' He then said to me, "You ask what the reason is? The reason is because of you."
On the seventh week (April 20), I again went to get it; the excuse was still the same. On the eighth week (April 28), I went again. A lady in the queue before me told the clerk that her passport would expire in one month, and she wanted to fast track the process. She was told that she did not need go fast track as it could be done in three weeks. When it was my turn, he still told me that: "Your passport isn't finished.'' I asked, "Why do others get it in three weeks?, it has taken eight weeks for me, do you mean you don't want to give it to me?'' He said, "We didn't say that we would not give it to you, the problem is that it hasn't yet reached my hands.'' I said, "All these reasons don't add up. Anyway, who is in charge of this matter?'' He replied, "I am in charge.'' I said, "You won't even give me your name, how can you say that you are responsible?"
On the ninth week (May 7), I went there again. The same man saw that I had arrived in the window. He immediately left the desk and didn't come out until ten minutes later. He said to me from a distance, "Yours hasn't been done yet." I asked his name again. He said, "I have the right not to tell you." I asked to see his superior. He let me make an appointment and we agreed to have a meeting at 10:00 a.m. the next Wednesday (May 13).
On May 13, after arriving, I was asked by the man in charge of passports to go to the office. I rang the bell outside the door. After being asked, I told the person in the office the reason why I came there and then was asked to wait for a while. I was then told to go to the passport window. When I went there and asked, "Am I supposed to see your superior here?" The man said, "You don't need to wait any more. Let me tell you that your passport was sent back to the authority that initially issued it, because it hasn't been approved. There are different scenarios in different areas." I said, "Then please give me a certificate." I said. He replied, "I won't get you any certificate. There has been no such case before." I said, "It has been delayed for too long a time." He said, "It is still normal for it to take even up to one year. You should have come a bit earlier." I told him that I came quite early, and now I can't go abroad to attend a Falun Gong conference because I have no passport. He said, "How dare you say that here. You are too bold!" So, I said, "Why? It's my right to say that." I then asked for his name, his superior's name and who the immigration office should contact if it's going to send a letter. I said, "Don't be afraid. A lot of officials work here with their name cards hung in front of their chests." He replied, "I am not afraid. You can ask them to write to the passport team." I asked, "Who should the letter be sent to, since there might be a lot of people in the passport team?" He replied, "Only me, one person in the team. I am the man in charge. When the passport is ready, I will phone you to tell you come and take it."
What a high-sounding lie! As an overseas organisation that represents a country, they don't even dare to be open about the true reason why they can't issue a passport. And their superior doesn't even dare to see me, let me know his name or give me a certificate. What on earth is the reason that the Chinese Consulate will not give me my passport? I think it could only be that I practice Falun Gong. The Chinese Communist Party has been persecuting Falun Gong for ten years. One of the overseas persecution policies is refusing to issue Falun Gong practitioners' passports. They deprive practitioners of citizenship and then conceal the truth with the lie that they didn't get the passport ready in order to avoid criticism from the outside world. Everyone can see that the evil party is going down a dead end.
I sincerely hope that the officials in the Chinese Consulate not do evil by helping the CCP to violate their conscience for personal gain in the present. I hope they will instead choose to be really responsible for their own lives, treat Falun Dafa and the practitioners with respect and quit the evil Party.