New Jersey: The Divine Land Marching Band Performs at 43rd Annual African-American Heritage Day Parade (Photos)
May 27, 2009
|
By Minghui reporter Xiaojing
(Clearwisdom.net On May 24, the Divine Land Marching Band was invited to perform at the 43rd Annual African-American Heritage Day parade in Newark, New Jersey.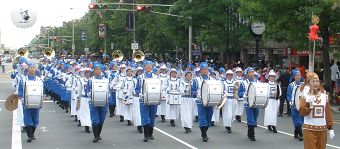 The band

Performing in front of City Hall

The band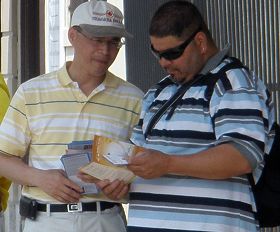 Reading informational material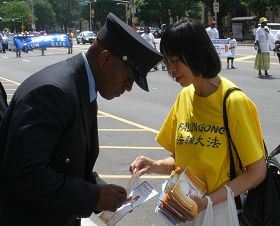 Clarifying the truth
The mayor of Newark, Cory A. Booker, was glad that the Divine Land Marching Band accepted the invitation to participate in the parade. He said he knew that the members of the band were Falun Gong practitioners and that Falun Gong has been persecuted in China. He strongly supported practitioners' human rights and their freedom of belief.
When the band passed by City Hall, the parade host introduced the band to the spectators, saying, "Welcome the Divine Land Marching Band, whose members are Falun Gong practitioners, obeying the principles of truthfulness, compassion, and forbearance."
After the parade, the band performed "Falun Dafa Is Good" in front of City Hall. The Divine Land Marching Band was the biggest band in the parade.
Lora, a local citizen, expressed interest in cultivating Falun Gong. "I like Falun Gong because it cultivates truthfulness, compassion, and forbearance. Although I have never talked to them before, I want to know more about them." She asked for more detailed information.
Val saw the parade with her daughter. She showed the reporter photos she had taken of the band. She learned that Falun Gong is now practiced in 114 countries but is persecuted in China. She said the principle of Truthfulness-Compassion-Forbearance is the universal base of all the beliefs and religions. She understands that the Chinese Communist Party is afraid that people have spiritual pursuits and that is the reason for the persecution. She said the dictators are afraid of people having freedom of belief, because they cannot control people and incite them to violence when they have spiritual beliefs.
Many people, including policemen, asked for information from Falun Gong.
It was the first time for the band to perform in this particular parade. Two local radio stations and one TV station covered the parade.