Recalling Fellow Practitioner Mr. Gu Qun (Photo)
May 17, 2009
|
By a practitioner from Dalian
(Clearwisdom.net) Mr. Gu Qun, 50 years old, was a practitioner from Dalian City, Liaoning Province. On the afternoon of March 16, 2008, the police from the Tianjin Street Police Station of Dalian City arrested him while he was distributing Falun Gong materials. The next day, he was transferred to the Yaojia Detention Center in Dalian City. At about 2 p.m. on April 9, 2008, his family was notified of his death.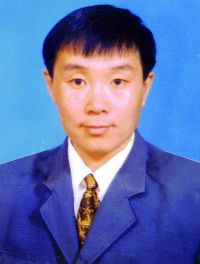 Mr. Gu Qun
Mr. Gu appeared to be in his early 40's, and was 5'8'' tall. He stood straight and walked quickly. His countenance was calm and compassionate. Compared to thirteen years ago when he was often sick, he was a different person.
Mr. Gu had been often sick most of his life and he was eager to become healthy. He had been to many places to look for a cure. Day after day and year after year, he spent more time and money but his illnesses became worse. When he had almost lost hope in life, he found Falun Gong. He had the chance to come to Teacher Li's lecture in Dalian City. July 1, 1994 was a memorable day. After eight days of classes, Mr. Gu completely changed. His illnesses were cured and he was full of energy. His experience of the physical benefits and his witness to Dafa's mighty power brought him more confidence in his practice of Dafa.
In his work, Mr. Gu did not abuse his power and always looked inward when problems occurred. When he saw his customers experiencing difficulties, he would help them without letting them know. He treated them like his relatives and friends. Some of his customers wanted to give him gifts or money to show their gratitude but he refused to accept it. He had established a very good reputation.
The housing availability was often scarce at that time. Allocating a house was often like warfare. In order to help resolve the conflicts, Mr. Gu gave up his allocated house to others. His action became a favorite story in the Bureau of Industry and Commerce where he worked. The person in charge of allocating the houses was touched by him. Mr. Gu's actions were rooted in the belief in the principles of Truthfulness-Compassion-Forbearance.
During the five years of his practicing up to 1999, Mr. Gu had gone to the Dalian Labor Park every morning to voluntarily teach the exercises and spread Dafa. After the persecution started, he saw many practitioners arrested, beaten and detained. Good and evil were inverted. He felt he had to do something. In February 2002, he went to Beijing to appeal for an end to the persecution. Since then, he was persecuted constantly. He was arrested, detained or sentenced to forced labor six times and suffered brutal torture. However, he always firmly believed in Dafa.
During the last eight years, Mr. Gu was compassionately "clarifying the facts" to people everywhere he went no matter what the circumstances. He wanted to help people see through the lies of the Chinese Communist Party (CCP) and thus treat practitioners kindly. After he heard about the retribution cases of the officials who participated in the persecution, he realized the importance of his responsibility of saving sentient beings. He was anxious to let more people know the truth. Besides studying the Fa and doing the exercises, he spent his spare time clarifying the facts and persuading people to withdraw from the CCP and its affiliated organizations. Whether he was walking or taking the bus, staying at home or going out, he tried to use every opportunity.
Once he met an old friend on the bus that he had not seen for several years. His first thought was not to lose this opportunity. Although his destination was further away, Mr. Gu got off on the same stop as his friend. They caught up with each other and then he got to the point. He clarified the facts to his friend who then agreed to withdraw from the CCP. His friend thanked him as well.
On the afternoon of March 16, 2008, the police from the Tianjin Street Police Station arrested Mr. Gu while he was distributing Falun Gong materials. The next day, he was transferred to the Yaojia Detention Center. He held a hunger strike to protest his arrest but he was brutally force-fed. His body suffered serious injury from the force-feeding. Later, he was sentenced to one and a half years of forced labor.
On April 7, 2008, the detention center officials sent him to the Dalian City Third People's Hospital. The doctors made the decision to keep him in the hospital for treatment, but the detention center officials insisted on sending him to the Police Department Hospital. In fact, they didn't send him there. Instead, they brought him back to the detention center. At around 9 a.m. on August 8, he was sent to the Dalian City Third People's Hospital again despite the fact that he had died in the detention center. The detention center officials had staged this to shirk their responsibility. They also tried to block news of his death from spreading and didn't tell his family until around 2 p.m. on April 9, 2008.
Mr. Gu's elderly mother became ill upon hearing the news. His elderly father was grieving and crying. His daughter, who was studying in Germany, still had not been told the news.
Mr. Gu's father tried to seek justice for his son and sent an appeal letter to the Dalian City Procuratorate. But his letter was returned to him due to the policy of the procuratorator not accepting any appeals related to Falun Gong. His father managed to send his letter to the Dalian City Politics and Law Committee. But his letter was transferred to the Xigang District Police Department with an instruction to compensate his father with some money. Mr. Gu's father was a high ranking official in the government. This was a true insult.
The period of time from Mr. Gu's arrest until his death was only 23 days. The brutality of the persecution is hard to imagine. There are over 65 confirmed deaths due to the persecution of Falun Gong in Dalian City. The CCP's crimes are unpardonable.
April 25, 2009