(Clearwisdom.net) On May 9, 2009, more than 6,000 Falun Gong practitioners from across Taiwan and its offshore islands, including Kinmen, Penghu and other places, gathered at the popular Kenting Scenic Area in the Puding Prairie in southern Taiwan. They arranged themselves in the shape of Zhuan Falun, the book that guides them in their cultivation. The event celebrated the 17th anniversary of Falun Dafa's public introduction to the world.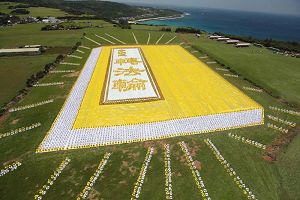 More than 6,000 practitioners in Taiwan formed the shape of Zhuan Falun, the book that guides them to practice cultivation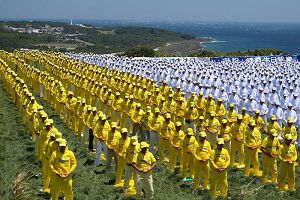 More than 6,000 practitioners in Taiwan did the exercises in unison at Puding Prairie in Kenting Scenic Area in southern Taiwan to celebrate the 17th anniversary of Falun Dafa's introduction
Mr. Li Hongzhi, founder of Falun Gong, also known as Falun Dafa, introduced Falun Gong to the public for the first time on May 13, 1992, in Changchun City. Since then, he has promoted the principles of Truthfulness-Compassion-Forbearance to the world, enabling more than a hundred million practitioners around the world to upgrade their moral standard and take the path to return to their original, true selves. Seventeen years later, Falun Dafa is practiced in more than one hundred countries and regions.
Zhuan Falun, the book written by Mr. Li Hongzhi that guides practitioners in their cultivation, has been translated into over 30 languages. The book expounds on the Fa principles in the simplest, most direct language, so that people from all walks of life and of different age groups can follow the its principles to value virtue, cultivate kindness, upgrade their moral character, and become better people.
A record for the largest number of practitioners participating in a word formation activity in Taiwan
Huang Chunmei, vice-chairman of the Taiwan Falun Dafa Association, said, "It is the first time that Falun Gong practitioners have ever formed a three-dimensional Zhuan Falun. More than 6,000 practitioners participated, a record in Taiwan for having the largest number of participants in a word formation event. Many practitioners in Northern Taiwan took the night bus south at 11:00 p.m. last night, and practitioners in South Taiwan spent three straight days making preparations at site despite strong wind. It was really hard work, but we managed to form the magnificent and majestic Zhuan Falun, which is a token of our high regard and esteem for our revered Master. We hope the formation of Zhuan Falun will encourage practitioners around the world, particularly practitioners in mainland China."
Chen Guilin, in charge of the site layout for the activity, was particularly happy to see the event's success. He said, "Behind Puding Prairie is Da-jian-san, and before it is the Pacific Ocean. Looking far ahead, there is Eluanbi Lighthouse in Kenting, symbolizing how Zhuan Falun is a beacon, becoming a hope and bright light for saving sentient beings. The word formation activities for 'World Falun Dafa Day' in previous years were held either in front of Chung Cheng Memorial Hall in Taipei or at scenic spots in central Taiwan. This was the first time we moved to Eluanbi in Pingtung County from Central and Northern Taiwan."
Those participating in the activity included practitioners in the field of industry, government ,and academia and all walks of life. The oldest was 98-year-old Mr. Ma from Tainan City, and the youngest was four-year-old practitioner Xu Faen. Mr. Ma said that he used to be in very poor health and suffered from all kinds of illnesses. He lived on medicine and injections, and no longer wanted to live at one point. But he was fortunate enough to start practicing Falun Gong ten years ago. Shortly after, he experienced a tremendous change, and all his illnesses and pains disappeared. He is very grateful to revered Master and Dafa's compassion and grace.
Four-year-old Xu Faen came with his father, Xu Wenchao, from Taipei. He sat in the lotus position in the word formation activity. He said, "I'm young a Falun Gong practitioner, Falun Dafa is good! I wish Master a Happy Birthday!"
Li Hua and her husband and son from Japan made a special trip here from Taipei. The couple said that there has not been such a grand scene in Japan. They felt it magnificent and splendid seeing Taiwan practitioners form the Falun Emblem in front of the Chung Cheng Memorial Hall in previous years. Today they were fortunate enough to take part in this word formation activity for the first time. They thanked compassionate and great Master and wished Master a Happy Birthday.
No one was impatient or restless
Ms. Zhang from Fangliao Township, Pingtung County, visited Puding Prairie with her friends. She expressed her admiration after seeing practitioners form such a spectacular shape. She said, "These Falun Gong practitioners are really fantastic, they are able to endure. They sat quietly in the sun for such a long time--they are really persevering. I think their minds must be full of peace. They must have good health."
A practitioner surnamed Zhao from Taipei said in an interview, "Today's activity moved me and also surprised me. Six thousand practitioners sat on the Puding Prairie in the lotus position with their eyes lightly closed and their hands in the Heshi gesture to extend their most sincere congratulations on revered Master's birthday. In particular, the practitioners remained in the sitting position for nearly two hours in the scorching sun, and there was not a bit of impatience or restlessness. Instead, they were in amazingly good order and peaceful. It is really remarkable--such a high moral character and perseverance. At the same time, at a place where more than 6,000 people gathered, at the end of the activity, not a single scrap of trash was left on the ground. The practitioners left the place in good order. This is rare to see in today's society. Really surprising. It is simply a redisplay of the spirit of the April 25th peaceful appeal of Falun Gong practitioners ten years ago near Zhongnanhai in Beijing, China."
Wang Guoming, coordinator of the activity, said that this year's word formation was different from previous years in that they formed Zhuan Falun in hardcover, with the characters on the cover of the book, and 32 brilliant rays surrounding it. They formed the cover and the side of the book in three-dimensional style. On the right side are six characters consisting of Master Li Hongzhi's name and the title, Zhuan Falun, about 88 meters by110 meters, the whole length 150 to 160 meters. This succeeded despite the strong wind in Hengchun, which is at the edge of the sea. About 60 practitioners made preparations for the layout two days ahead. The wind made things difficult, with plastic sheets being flipped up several times. It took a tremendous effort to make this a successful event.
Practicing Falun Gong is beneficial to both physical and mental well-being
Eighty-six year-old Mr. Yang Jincai came by bus from Ilan at 11:00 p.m. the previous night. He looked to be in high spirits and was happy to be there. He said that he was determined to take part in the World Falun Dafa Day activity. "I had learned from the newspaper that Falun Gong was widespread in mainland China years ago, and I admired those practitioners who could cultivate in Falun Dafa. Later, when Falun Gong was introduced to Taiwan, my dreams finally came true! After years of practicing cultivation, I have personally witnessed that it is really fortunate to be able to meet with this Dafa that one may not come across in millions of years," said Mr. Yang.
Mr. Yang Jincai, originally from Yunnan Province, came to Taiwan with the Kuomintang army in 1954. He started practicing Falun Gong in 1996. In just several months, all his illnesses disappeared. He has not seen a doctor in 13 years. "I'm now 86 years old, and my health is better than when I was 85 years old," said Mr. Yang. He did not go to school, but he can read every word in Zhuan Falun and can recite Lunyu and Zhuan Falun. He said, as his eyes teared up, "As long as there is someone who says that Falun Dafa is not good, as long as I know there are Falun Gong practitioners being persecuted, and as long as I think of Master enduring hardships to save sentient beings, I feel very sad."
Lin Zaifang from Kaohsiung is an engineer with a steel company. He has never missed an annual "World Falun Dafa Day" activity. He said that all practitioners have benefited because of Dafa, that their moral standard has been upgraded and their health has improved. "Our gratitude to Master is beyond words. The reason that we all celebrate 'World Falun Dafa Day' is that we clearly know that the Chinese Communist Party has used all its means of propaganda to constantly defame and smear Falun Gong since the persecution started. So the more people that take part in the activity, the more opportunity for the world's people to learn the truth and understand that Falun Dafa is good and Falun Dafa is the righteous Fa."
Mr. Chen is a retired principal. He said, "I'm in my 70s, but my health improved because I practice Falun Gong, and the more I move around, the more I feel energetic, so I take part in every activity. In particular, the unforgettable trip to India helped Falun Dafa spread to over 80 schools in India. Many of those schools arrange for the students to practice Falun Gong in PE classes. The parents of the students also practice."
Since Falun Dafa was introduced to Taiwan in 1995, many people have benefited because Falun Gong values virtue and cultivates compassion. It has a tremendous effect in healing illnesses and keeping fit. Falun Gong has spread by word of mouth. According to a conservative estimate, there are about 700,000 people practicing Falun Gong in Taiwan.