Pasadena, California - Shen Yun Plays to an Appreciative Audience (Photos)
May 10, 2009
|
Compiled by Clearwisdom staff
(Clearwisdom.net) A warm and appreciative audience enjoyed the performance of the internationally acclaimed Shen Yun Performing Arts at the start of its Spring Tour in Pasadena at the Civic Auditorium on Friday evening, May 8.

Among them was Mr. Juan, established stylist to the entertainment industry and president of a well known concept salon in Beverly Hills, with six family members and friends, including his 10-year-old daughter Braslen, who would one day like to be able to dance like the dancers in Shen Yun.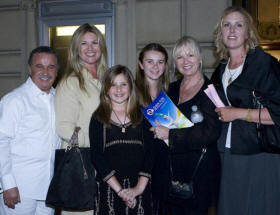 Mr. Juan, his family and friends
Braslen said, "I'm really surprised on how it actually was, because I never thought it would be like that. I just thought it was an amazing show and I'm glad I went to it. Hopefully I can try and do that someday."

Her father, Mr. Juan, said that she did a great job. "She is so smart and she's only 10 years old and she saw everything. She knows more about this than I do. I hope they bring it [Shen Yun] back ... This was a great experience to see what we saw in Pasadena."

He said that everyone in his party enjoyed the show. He said, "We like the culture of China, the way they do things. We never knew how they dance. My two daughters are the dancers. They are the ones who asked us to come and see [the show]. And it was beautiful."

Attorney: "This is unique"
Mr. Murphy, an attorney in San Diego, was in the audience. He and his daughter came to accompany his mother, who had organized the tickets, and her friend Elena. "I think it's fantastic. I have never been exposed to anything like that before, and it was her idea to go, and I'm really glad we did. This is unique."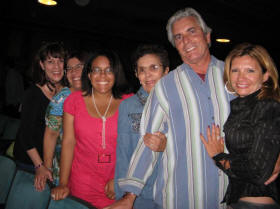 Mr. Murphy, an attorney in San Diego, and his family
Mrs. Murphy, Steve's mother, said she had seen Shen Yun advertised while watching television with her granddaughter and they had both wanted to see the show straight away. "This is just so outstanding and so beautiful, it's amazing. Your scenery shots are great. The precision and the perfection of all the performances is just outstanding. I deeply do [enjoy it]."

Mrs. Murphy, who is Hispanic, shared, "Every country has its own unique history. This is history to me. And it's just beautiful. The truth for me is that I see such honor, such refinement, and such strong beliefs about where we come from. And I've always felt that way about the Chinese people, and today I'm seeing that. Beautiful. Beautiful."

Mr. Murphy added, "They do a very good job of relating the story, visually, even if you're not familiar with it."

When Mrs. Murphy heard that Shen Yun was not able to perform in China she was full of encouragement for the performers. "This show is great. Keep it up! I think you're doing a wonderful job. It's beautiful," she said.

Cultural icon: "This is a mind-blower!"
Marlene Pfeifer, a cultural icon in Los Angeles for her legendary Next Stage Tours, saw Shen Yun and said she wanted to put the show on her tour circuit. Next Stage Tours takes people to all sorts of exciting events and places in and around Los Angeles and is represented in most of the major travel guides including Fodor's, Frommer's, and Time Out.

Ms. Pfeifer said, "I would love to bring a tour group here some day because the tours that I do are nature, history, adventure, cultural experiences, and this is a mind-blower! It's one cultural experience after another. It's absolutely beautiful. It's just so gorgeous. To see everything. I love the dancing and the scenery and the costumes and the backdrop. The beauty of the dancers, not just the way they dance, but they're all beautiful people, so graceful. It's just a cultural mind-blower!"

Ms. Pfeifer explained her experience, "It's very educational. I've always been interested in the Chinese culture, but this is something I've never seen. I've never seen anything quite like it before." She added that Shen Yun had "everything--even humor! The emcees are so funny and charming."

She mentioned that she is looking forward to bringing her clients to the show.

Marine: "Put a tear in my eye"
Also in the audience was Mr. Hoang who is in the Marines. He enjoyed the show so much that he is going to see Shen Yun again when Shen Yun performs in San Diego later in May.

"I'll take another friend to watch the show again. I love it. I loved almost everything about it. Certain parts, I don't want to say, put a tear in my eye. I got emotional. It was cool," he explained.

Two of the scenes particularly resonated with Mr. Hoang. Heaven Awaits Us Despite Persecution, which depicts a father who is dragged from his family and persecuted to death by soldiers for practicing Falun Gong in China. "I loved the scene where the soldiers came and killed the dad, and he went to Heaven. And all the family members saw him in Heaven." The piece Dignity and Compassion also had meaning for him. "The part where the soldier felt compassion for the prisoner."

Mr. Hoang shared, "I drove by it and saw the billboard, and thought I had to get a ticket, so I went on line and got the tickets. It was really touching and really good. Great!"
Source: http://theepochtimes.com/n2/content/view/16533/
http://theepochtimes.com/n2/content/view/16532/
http://theepochtimes.com/n2/content/view/16534/