(Clearwisdom.net) Chen Yunlin, the president of the Association for Relations Across the Taiwan Straits, visits Taiwan next week. Before his arrival, more than 1,000 Falun Gong practitioners held a rally in front of the hotel where he is going to stay, calling for the end of the persecution. The rally will continue 24 hours a day, every day until Chen leaves.
Practitioners raise banners, which read "Falun Dafa is Good," in front of the hotel
Practitioners open banners in front of the hotel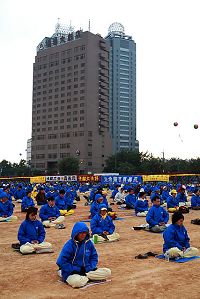 Demonstration in front of the hotel
Chang Chinghsi, the chair of the Falun Dafa Association in Taiwan, said that Chen is a representative of the Chinese Communist Party (CCP), so practitioners want to tell him that the CCP must take responsibility for the 10-year-long persecution.
Practitioners held demonstrations and also performed waist drums and traditional Chinese music. Many people were attracted; they took photos and praised the practitioners for their peaceful resistance. They expressed their support and condemned the persecution. The Divine Land Marching Band, consisting of practitioners, performed at the rally and were warmly welcomed by the public.
Practitioners opened banners, which read "Falun Dafa is Good," "The world needs Truthfulness-Compassion-Forbearance," "Stop the Persecution" and "Bring the perpetrators to justice." They told the public about the lawsuit against Jiang and his gang in Spain and the news that the Argentinean judge has ordered the arrest of Jiang Zemin and Luo Gan, two major players in the persecution.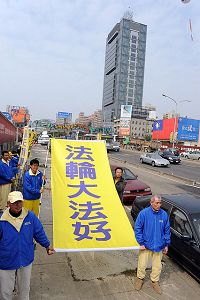 Practitioners open banners in front of the hotel
Many people sent greetings and blessings to practitioners, and encouraged them to keep up their resistance. Reporters from local and international media interviewed practitioners.