(Clearwisdom.net) From November 20 to 22, the 6th International Health Expo was held in the Prince World Trade Center in Kuala Lumpur, Malaysia. Local Falun Gong practitioners participated in the health expo.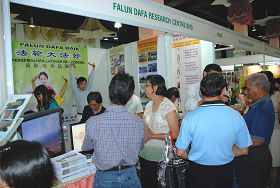 Falun Gong booth at the Malaysian 6th International Health Expo
The expo invited 88 companies and organizations, totaling over 100 booths displaying health products and a wide variety of information. The organizers estimated that about 40,000 people visited the expo during the three days that it was held.
Falun Gong was the only qigong exercise group in the expo. The front of the Falun Gong booth was decorated with a large picture demonstrating the exercise poses. The was also a list of the exercise teaching locations in Malaysia and materials introducing Falun Gong. On a television screen, videos of Master Li teaching the exercises and other videos were shown.
Practitioners demonstrated the exercises, attracting many visitors to come to the booth. Some took the folded paper lotus flowers and many asked for the exercise teaching schedules. One gentleman commented that the free exercise teaching is providing a great service.
Practitioner Mr. Lin volunteered at the Falun Gong booth for three days. He said that most of the visitors had already heard about Falun Gong and were eager to hear more about Falun Gong's health benefits. "People come here to look for health-related information. Falun Gong has an amazing effect on health, which fits their needs. So Falun Gong is a very popular booth. The exhibition has been very successful," Lin said.
One man came to the booth and talked to a practitioner. He said he had had the book for many years but had not read it yet. A few days ago, he heard the news that a Spanish court accepted the lawsuit against former Chinese president Jiang Zemin, and today he encountered Falun Gong again. He said he will definitely read the book as soon as he got back home.
The Falun Gong booth not only attracted many visitors but also many of the other participants at the expo stopped by. Many of them came to the booth to ask for more truth-clarification materials.
The three-day health expo provided an opportunity for practitioners to introduce the beauty of Dafa to many Malaysians. People learned about the practice and also about the persecution taking place in China.