Taiwan: Asia Fa Conference Held in Taichung (Photos)
November 26, 2009
|
By Li Huirong and Liu Wenxin
(Clearwisdom.net) The 2009 Asia Falun Dafa Cultivation Experience Sharing Conference was held in Taichung, Taiwan on November 22, 2009. Seven thousand practitioners from Taiwan, Japan, Korea, Malaysia, Hong Kong, United States, Thailand, and Vietnam attended. They learned from each other's experiences and were encouraged to improve diligently in the practice.
Twenty practitioners spoke at the podium about how they followed the principles of Truthfulness-Compassion-Forbearance in their daily lives to become better people. They talked about how they conquered their fear when telling people about the facts of the persecution of Falun Gong in China, how they eliminated interference in the process, and how they passed their tests of illness karma.


The 2009 Asia Falun Dafa Cultivation Experience Sharing Conference was held in Taichung, Taiwan, on November 22, 2009
One 70 year-old lady looks like she is in her fifties. She said that she used to be so ill that she wanted to kill herself. When she was hospitalized, she listened to her daughter read her the Falun Dafa articles, and she got well. That was how she began the practice. Her friends often said to her, "What miracle pills did you take that you look so great?!" She was not very good with directions and had to have someone to take her everywhere. She had to suppress her fear because she wanted to go to places to clarify the truth. She started by going to scenic places to do the exercises, going to parades, and going from tour bus to tour bus holding up a Falun Dafa information board. She walked out step by step and now she lives a solid and energetic life.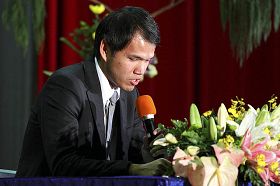 Practitioners speak at the podium to share their experiences
One young man who studies modern art in France said that before he practiced Falun Gong, he had long hair and a beard, dressed sloppily and was unkempt. His artwork was dark and abstract because he believed that was how high-class art should be. He despised his classmates who were realistic painters. After he began the practice, he understood that much modern art is depraved. He cut his hair and began dressing neatly. He also picked up his brush to paint realism.
Ms. Zhang is the director of a school's student affairs department. She saw how the lack of morality in current society has caused students to have deviated behaviors, including addiction to online games, fighting, destroying school property, cursing, dressing in an unkempt style, and strange hairdos. She taught the 3000 students the principles of Truthfulness-Compassion-Forbearance, and gradually changed the school tradition. When other schools were having problems getting new students because of the dropping birthrate, her school had 200 more new students compared with the previous year. At the graduation ceremony this year, students and teachers in school shouted out "Falun Dafa is good" at the end.
A lady who has been talking to people online in China about Falun Gong said that many people in China want to learn Falun Gong and understand what happened. She realized that it is not time to relax and seek comfort. She needs to grasp the time to do more in clarifying the truth.
Recognizing One's Shortcomings
Ms. Sato from Japan previously experienced unbearable muscle pain from jazz dancing. Her doctor introduced her to Falun Gong. Shortly after she began practicing, her pain disappeared and her movements became very light and graceful. This boosted her confidence in the practice. Seeing her changes and feeling that she was becoming a nicer person, her husband became very supportive of her practice. She was glad to see so many practitioners in Taiwan. When practitioners lined up together to form characters, she could feel the magnificent energy.
Cheng Qitai came from Korea. He came to Taiwan on November 21 specifically to attend the Fa conference. He knew there were many practitioners in Taiwan and wanted to hear their experiences. After listening to practitioners' experiences in the morning, he realized that although practitioners came from different environments, the attachments they needed to eliminate were the same.
Mr. Chen Aike learned about Falun Gong in late 2007. He came to the conference with his wife and baby. During the two-day conference, Chen learned a lot from other practitioners and saw his own shortcomings. His wife is a Buddhist and felt good about the conference.
Lin Yuanyin came from Macao. Ever since Macao was returned to China, the environment for practitioners became more restrictive than that in Hong Kong. However, practitioners in Macao continue to do the because they shoulder historical missions.
Practitioners in Macao clarify the facts of the persecution in two scenic places. One is the Ruis of St. Paul, where every day tens of thousands of Chinese tourists visit. During the Chinese New Year, hundreds of thousands of tourists come. The local practitioners urge the Chinese tourists to quit the Chinese Communist Party and its affiliated organizations and have handed out the at the Ruis of St. Paul every day for the past several years.
The conference ended at five in the afternoon. Practitioners went home with more inspiration and motivation to improve themselves in the practice.