(Clearwisdom.net) It was reported that human rights violator Bi Xilai, the secretary of the Chinese Communist Party (CCP) Committee of Chongqing, will visit Taiwan next Spring. On November 13, 2009, Mr. Chang Ching-hsi, director of the Taiwan Falun Dafa Association, visited the Association of Foreign Trade. He explained that Bo is one of the main culprits in the persecution of Falun Gong and would be sued for the crime of torture. He said he would contact human rights organizations to propose that Bo's entry be denied.
Taiwan media reported that Chongqing would organize an economic and commerce delegation to visit Taiwan next year. Mr. Wang Chi-gang, director of the Association of Foreign Trade, will go Chongqing and invite Bo to visit Taiwan. Hearing of this, Mr. Chang went to the association and was received by the deputy director, Ye Ming-shui. Mr. Chang handed over the World Organization to Investigate the Persecution of Falun Gong (WOIPFG)'s report on Bo Xilai.
Mr. Chang said, "Bo Xilai is guilty of the crime of torture in China because he participates in the persecution of Falun Gong. We think he should not enter Taiwan. Based on the rules of entry, he should not be permitted to enter. He has been sued in many countries. We will sue him if he comes to Taiwan."
Mr. Ye said that the information from Falun Gong practitioners had been transferred to Mr. Wang Chigang to review. He expressed his understanding about the lawsuit against Bo.
When Bo was mayor of Dalian City, and later governor of Liaoning Province, he directed the persecution of Falun Gong practitioners. Many practitioners were forced to attend brainwashing sessions, were detained, tortured or imprisoned in forced labor camps, and had their homes ransacked. Dalian is notorious for its severe persecution of Falun Gong.
Mr. Jiang Wei-ping, former director of the Northeast Office of Wenweipo of Hong Kong, was in Dalian City government in1999. He witnessed that Bo Xilai gave orders to the Dalian Department of Police and National Security Bureau to arrest Falun Gong practitioners, "Persecute Falun Gong practitioners to death without mercy!"
WOIPFG collected evidence that when Bo was governor of Liaoning (2001-2004), he spent huge amounts of money to construct large prisons to imprison Falun Gong practitioners and force them to renounce their beliefs. More than $US60 million was spent on Masanjia Forced Labor Camp alone. Liaoning is one of the provinces that persecutes Falun Gong practitioners most severely. Based on the Clearwisdom website, 403 practitioners have been tortured to death in Liaoning Province.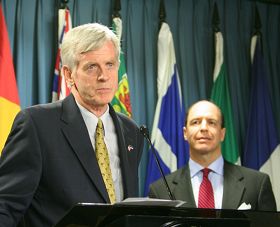 Mr. David Kilgour, former Secretary of State (Asia-Pacific) for Canada, said in the press conference in Parliament on July 5, 2007, that a female witness disclosed that corneas were removed from more than 2000 practitioners when Bo was the governor of Liaoning Province.
In March 2006, two witnesses disclosed that in Sujiatun Concentration Camp, Liaoning Province, several thousand practitioners were imprisoned and killed for their organs for lucrative profits from 2001 to 2003.
Hearing that such a human rights violator would visit Taiwan, a Falun Gong lawyers' group in Taiwan has initiated preparations to file a lawsuit against him if he enters Taiwan.
Bo Xilai has been sued in twelve countries for crimes against humanity, including genocide and torture, by Falun Gong practitioners. In 2004, Bo received a court summons in his hotel when he visited the USA as Minister of Commerce. In November 2007, the High Court of New South Wales, Australia, ruled in favor of Falun Gong practitioners in the first round trial. Bo lost in the lawsuit.