(Clearwisdom.net) An annual, month-long "Floriade" is being held from September 12 to October 11, 2009, in Canberra, the capital of Australia. This important flower festival attracts several hundred thousand visitors from across the country each year. Besides feasting their eyes on the spectacular flower displays, festival-goers also learned about the magnificence of Falun Gong.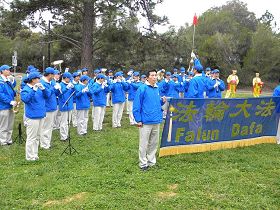 The Divine Land Marching Band performed "Falun Dafa Is Good" and other selections
Visitors had their photo taken with waist drum team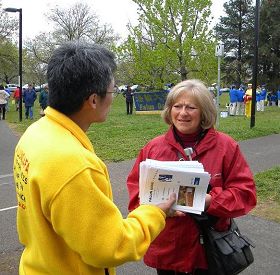 A practitioner explaining the persecution of Falun Gong to a visitor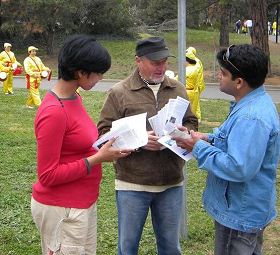 A practitioner (middle) explains the facts about Falun Gong to tourists
On Sunday, October 4, it was estimated that 200 thousand tourists would come to view the flower display. Local Falun Gong practitioners took the opportunity to introduce Falun Gong to the festival goers. Sydney's Divine Land Marching Band and Waist Drum Team also came to add to the fun.
On the main pathway to Commonwealth Park, the Divine Land Marching Band played selections such as "Falun Dafa Is Good" and "Fa Rectifies the Cosmos." The rousing music drew many festival-goers, who slowed their steps to watch and take photos. They applauded and cheered the band's performance. The Waist Drum Team was inspiring with its lively Chinese style drum performance. Practitioners' exercise demonstration was an island of peace and tranquility in the midst of the noisy bustle. Many tourists learned to do the exercises at the scene.
Several practitioners distributed materials that explained the facts about the practice as they talked about about the physical and mental benefits and exposed the persecution of Falun Gong by the Chinese Communist Party (CCP). One lady had a long conversation with a practitioner and asked for detailed information about the persecution. When she learned about the CCP's atrocity of harvesting organs from living Falun Gong practitioner, she was shocked and said that such a crime should be immediately stopped.
Among the practitioners who distributed Falun Gong materials was 74-year-old Western practitioner Rene. He is hale and hearty, not at all like many in their 70s. He started practicing Falun Gong over two years ago. He said that, right there in 2006, his wife and he were attracted by a group of young people that performed in a festival parade. Both of them felt that the young people emitted a strong energy. Rene was very excited and got on the Internet to search for information about Falun Gong as soon as he returned home. He also read Falun Gong books and decided that it was the truth that he had been looking for, so he started practicing.
Rene said, "After several months of practicing, 80 per cent of my illnesses that were deemed "incurable" by the medical profession had vanished. For example, a serious eye disease and headaches hit me six years ago. Those viruses damaged my nerves and gave me headaches. Not only that, the sciatic pain in my left leg prevented me from driving for a long time. I had to pull over every hour and take a walk to ease the discomfort. Now all these conditions have gone from being severe to being very slight."
That day, as a practitioner, he told the tourists about the physical and mental benefits of Falun Gong and about the CCP's brutal persecution of Falun Gong. He thought it was an important thing to do. From time to time, passersby quietly surrounded him and listened to him talk, and then left with Falun Gong materials in hand.
Over the past years, Falun Gong practitioners in Australia have persevered in clarifying the truth, and many people that have learned the facts have gained a deeper understanding of the CCP's evil nature and have shown concern and sympathy for practitioners being persecuted. Many have wanted to do something to help stop the persecution, and many have also become practitioners.