Rhode Island: Falun Dafa at the Dragon Boat Races (Photos)
October 02, 2009
|
By Minghui Correspondent Cheng De
(Clearwisdom.net) The10th Annual Rhode Island Chinese Dragon Boat Races & Taiwan Day Festival on Blackstone River in Pawtucket was held on September 26, 2009. Falun Gong practitioners participated in the festival as in previous years. They set up a booth and taught people how to practice Falun Gong and how to fold paper lotuses. Their booth received a great deal of attention at the festival.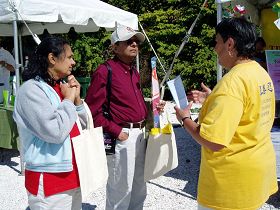 Practitioners introduce Falun Gong.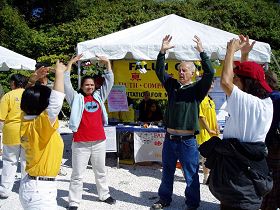 Many people learn how to do the exercises.
Many people went to the Falun Gong booth to find out how to learn the exercises. Some started to learn right away. Others learned how to fold paper lotuses. The booth stayed busy. People were happy to see "Truth, Compassion, Tolerance" printed on Falun Gong practitioners' T-shirts. They thought "Truth, Compassion, Tolerance" were what the world needed most. Many took introductory materials with them.
Anna and her mother came from Lincoln. They wanted to learn Falun Gong right after hearing about its health benefits. Anna felt her back pain was much better after doing the first exercise. She asked where she could get the exercise music. She left her address and said she would like to learn Falun Gong from the teaching video.
A local newspaper photographer took pictures at the booth. He learned about the persecution of Falun Gong in China and showed great support. He said what his reporter friend saw in China was completely different from what the Chinese propaganda reported. He said in communist countries like China, the former Soviet Union, East Germany, and North Korea, people didn't have the right to tell the truth and faced persecution if they did tell the truth. He said with strong feeling, "The world should wake up and stop the Communist Party persecution."
A professor at Johnson & Wales University said she had some students from China and would tell them the true story of Falun Gong. She took some brochures with her.
Two students from China carefully read the Falun Dafa display and discovered that the CCP's slanderous propaganda didn't tell the truth. Practitioners said that, since they had come to the land of freedom, they should open their minds and check things out for themselves. With great attention, the students listened to practitioners' explanation and took brochures on "The Path to One's Origin" with them.
A gentleman in his 70s took his grandson to visit the Falun Gong display. When a practitioner told him about Falun Gong, he said he wanted to learn it right away. While he was learning exercises one through four, two ladies from India joined in. The gentleman kept saying, "This is great!"